By Jodee Weiland
When I was growing up, it was not unusual for my parents to cook one of my favorites, escarole and beans. I loved this dish, and I usually didn't care what else was being served with it. As an adult, I realized that other people do care, and many of those who do, like a nice sausage, meat, or fish of some sort with it.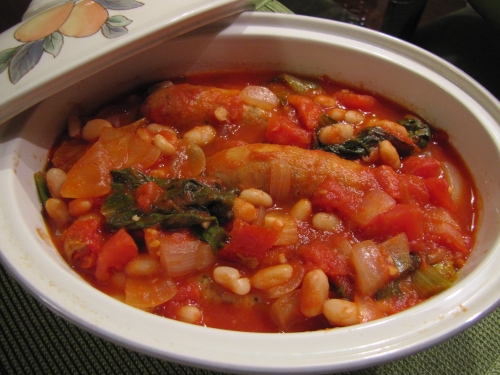 So I decided to do escarole and beans in a red sauce with Italian sausage. The best part of this dish is that Italian Chicken Sausage, Beans, and Escarole is cooked all in one pot!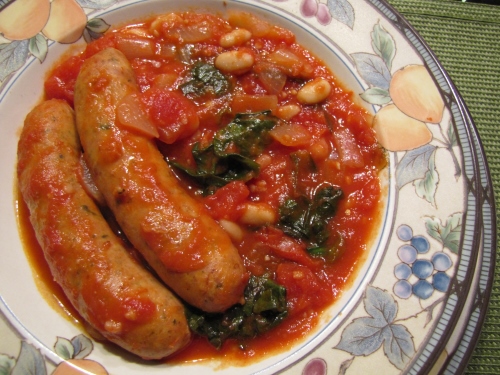 Later when I needed to watch the use of sausage in our family for health reasons, I switched to Italian chicken or turkey sausage. Either way it's good, and I seriously doubt many can tell the difference, even if they claim they can. But that's okay, because with this dish you can choose for yourself which kind of sausage to use.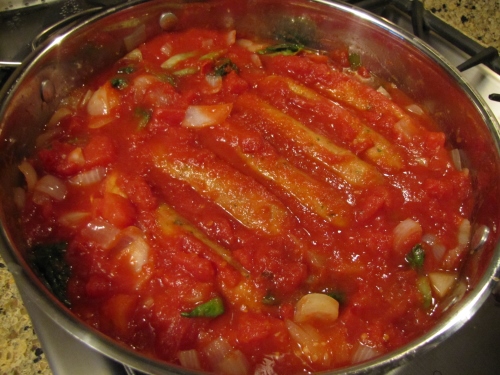 Italian Chicken Sausage, Beans, and Escarole…All in One Pot!
6 to 8 mild Italian chicken (Italian sausage or turkey sausage may be used)
4 teaspoons extra virgin olive oil
1 large onion chopped
2 cloves garlic chopped
15 ounce can of diced tomatoes
15 ounce can of crushed or puree tomatoes
2 tablespoons sun-dried tomatoes cut up
4 to 5 cups of escarole cut up
Optional: 1/4 to 1/2 teaspoon ground cayenne pepper
15 ounce can of cannellini beans
Prick the sausage with a fork several times, and then cook it in olive oil over a low heat turning often until browned lightly.  Many chicken sausages are pre-cooked, so if that's the case, you will just want to brown them lightly and continue. Add the onion and the garlic, allowing this to cook covered for a few minutes. Once done, add the escarole on top of this and cook covered until the escarole cooks down slightly.
Then add in the diced tomatoes, crushed tomatoes, and the sun-dried tomatoes. Stir together and simmer covered for about five to ten minutes longer.  Finally, add in the cannellini beans, stirring them in over a medium heat until bubbling. Once bubbling, lower the heat to simmer, cover and cook for fifteen to twenty minutes or longer to allow the flavors to blend.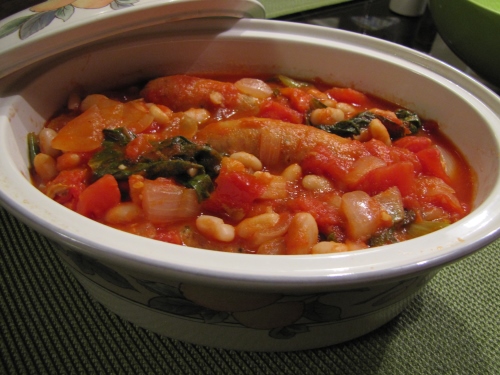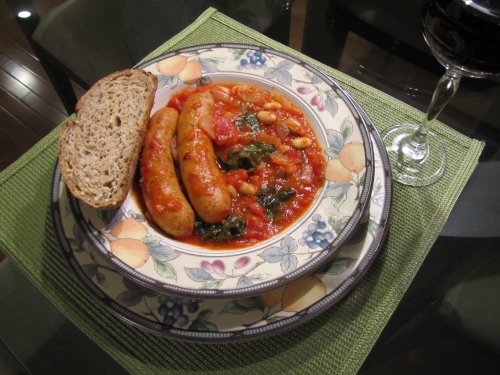 Italian Chicken Sausage, Beans, and Escarole…All in One Pot is definitely is a hearty and delicious meal! Serve this meal with a crusty multigrain bread and a robust red wine for a delightful dinner any time. The various flavors blend together easily to create a savory dish that will please any one, young or old. But don't take my word for it. Try it yourself, and enjoy!