By Jodee Weiland
Last Thanksgiving I needed another pie for dessert fast, so I went over to the store to see what was available. I saw an apple cranberry walnut pie for sale and thought what a great idea, so I bought one.
It was delicious, but I couldn't help but think how much better it would be if it was homemade. So this year I decided to make my own apple pie recipe, but I would add fresh cranberries and walnuts. That's how I created my own version of Apple Cranberry Walnut Pie…Sweet, Juicy, and Delicious!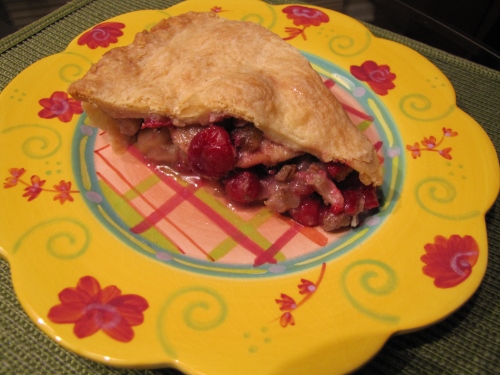 I started out with my own recipe for Sweet Juicy Delicious Apple Pie using Granny Smith Apples, adding one cup of fresh cranberries, and about 3/4 cups of chopped walnuts. I especially liked the idea of sweet but tart Granny Smith Apples with fresh cranberries and the additional crunch of walnuts all together. I added one additional tablespoon of flour to my filling, a tad more butter, and less apples because of the cranberries and walnuts. Once in the oven, I knew this recipe was going to be great! The house smelled so good while this pie was cooking, I couldn't wait to try the finished product, but wait I did. Why? Because this pie was for Jerilyn!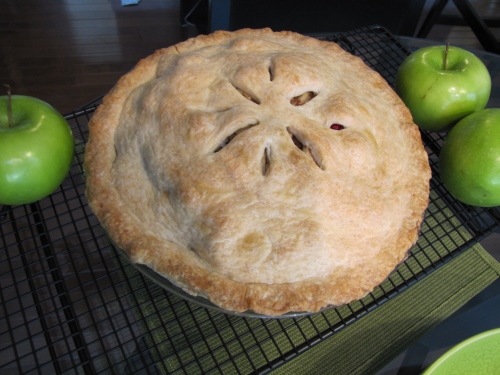 When I first decided to make this pie, I chose apple for my sister, Jerilyn, who loves apple pie. I was bringing her to my home for dinner to celebrate Thanksgiving and her birthday. Jerilyn is mentally challenged. Although she is nine years older than me, she has the mentality of a six year old. She is in a special program and lives very close to me and another one of my sisters. We pick her up often and take her to lunch. When needed, we take her for a haircut or sometimes to shop for things she may need. On holidays, each of us, myself and my other two sisters, will rotate bringing Jerilyn home to celebrate. I usually have Thanksgiving and her birthday, so when I plan the menu, I try to keep in mind her favorites. Jerilyn loves the holidays and especially, celebrating her birthday, so it has to be right! With that in mind, apple pie is the number one choice for dessert!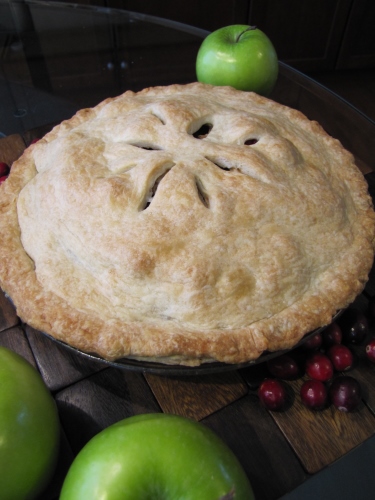 Apple Cranberry Walnut Pie…Sweet, Juicy, and Delicious!
For the flaky pie crust: (this recipe is enough for the top and bottom crusts)
2 cups all-purpose flour
2 tablespoons sugar
1/2 teaspoon salt
1 cup unsalted whipped butter
6 to 7 tablespoons ice cold water
In a food processor combine the flour, sugar, and salt.  Add the butter and pulse until the texture is crumbly with the butter in small pieces.  Add 1 tablespoon of water at a time, pulsing the mixture as you go.  You may use only six tablespoons of water, but if needed, use more.  Add water until the mixture looks crumbly, but can be formed into 2 balls in your hands.  Refrigerate one ball, while you roll out the other to fit your pie dish on a lightly floured surface.  When rolled to the right size, fold it in half to move to your pie dish.  I use a pastry sheet with printed circles of various sizes to roll out my dough in order to get it the right size and shape.  My pie dish is a 9 inch dish.  The other ball will be rolled out later to create the top crust for your pie.  Refrigerate the pie dish with the bottom crust.
Pre-heat the oven to 350 degrees while finishing your pie filling.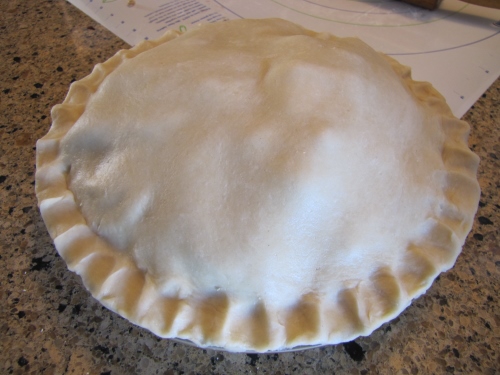 Apple pie filling:
5 cups of thinly sliced, peeled cooking apples (I use Granny Smith Apples)
1 cup fresh cranberries (frozen may be substituted)
1/2 to 3/4 cup chopped walnuts
1 cup sugar
3 tablespoons flour
1 teaspoon cinnamon
1/4 teaspoon nutmeg
1 to 2 tablespoons butter
Combine the sugar, flour, cinnamon, and nutmeg.  Gently stir this mixture into your apples, cranberries, and walnuts. Spoon the apple mixture into the pie dish with the bottom pie crust. I like to stack it up high, but only high enough so I can still cover it with the top crust.  Cut up the 1 to 2 tablespoons of butter and spread it over the top of the apples before putting on the top crust.  Roll out the top crust to fit over the top of your apples and then press the edges together all the way around the pie dish sealing the pie crust edges.  Now cut several small slits in the top pie crust with a sharp knife, so the steam can escape while cooking.  I usually cut eight one inch slits like a starburst at the top.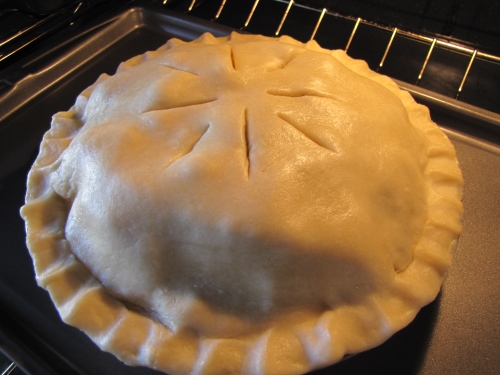 Place the pie dish on a cookie sheet, either with a non-stick coating or covered in parchment paper, to catch any juices from the pie and for an easier clean up afterwards.  Bake at 350 degrees for 50 to 60 minutes until the crust turns a golden brown.  Once done, sprinkle a little sugar across the top if you would like, then set the pie on a cooling rack for at least one hour before cutting.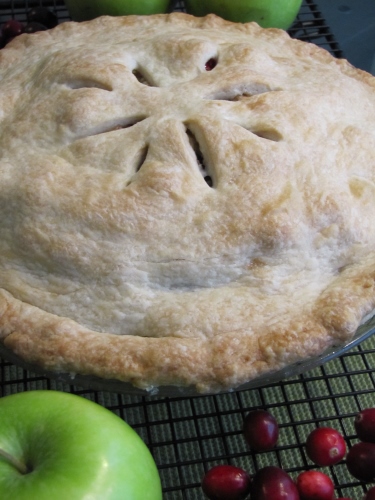 My Apple Cranberry Walnut Pie is definitely sweet, juicy, and delicious! In fact, it was beyond delicious! Jerilyn loved this pie because as she said, apple pie is her favorite. Every time my sister and I pick her up from the sheltered workshop to take her to lunch, she orders apple pie for dessert! Since this is usually every other week or sooner, you would think she would get tired of it, but she never does. The restaurant where we usually take her has a list of homemade baked goods, and they are definitely good, but Jerilyn always chooses the apple pie. That's why I knew she would love this pie! That said, if you try this pie, I feel certain you will not be disappointed. So try it soon and enjoy!
Featured on 50+ HOLIDAY TREATS at the blog, Yummy Healthy Easy, written by Jen.