By Jodee Weiland
When I think about this particular trip, I can't help but think about the wonderful Pastabilities! Oh, what a great place to stop and have a delicious meal!
Recently, we drove from Chicago to Cape Cod with a few stops in between here and there.  We were on our way to an area just outside of Boston for a family wedding.  We decided to extend our trip another week, so we could spend time on Cape Cod.  On the way to and from the Cape, one of the cities we stopped at was Syracuse, New York, and this was no accident.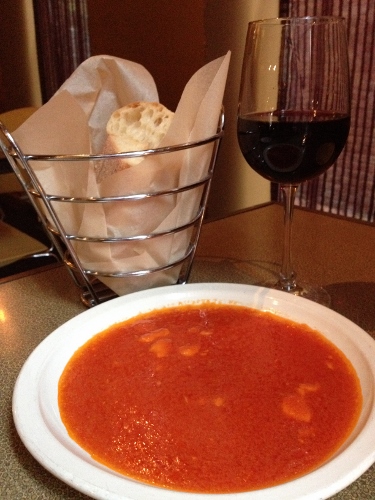 We had seen a restaurant called Pastabilities featured on the TV show, Diners, Drive-Ins and Dives, with Guy Fieri.  They talked about the Pastabilities Daily Spicy Hot Tomato Oil that the restaurant served to customers with fresh baked bread, while waiting for their meal.  It was a bread dipping sauce in place of the typical olive oil.  It looked delicious, and that's all it took for me to put Syracuse, New York, on the route we would take to the Cape!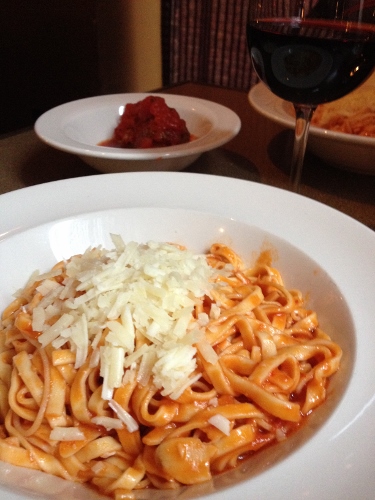 This was one of the best choices I have ever made in planning our road trip routes.  Pastabilities is without a doubt a wonderful restaurant that serves a choice of pastas and more, including homemade pastas.  The Pastabilities Daily Spicy Hot Tomato Oil is not only used as a dipping oil for bread, it is also used as a sauce for pasta.  I had it with homemade linguini, and I have to say it was beyond delicious.  It was superb or as my husband would say, "Best of the best!"  We both loved it and wish we could go there more often to enjoy this and all the other wonderful selections on the menu.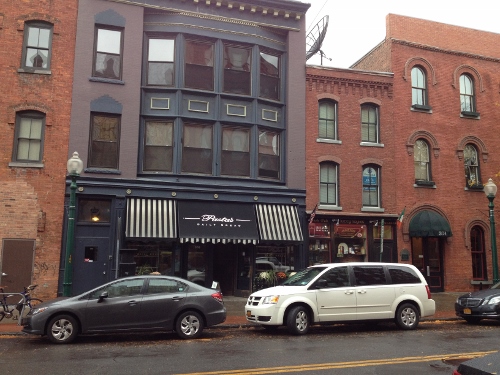 The owner, Karyn Korteling, not only has her restaurant, Pastabilities, but also owns a shop across the street called Pasta's Daily Bread, where they bake delicious fresh bread and sell the Pastabilities Daily Spicy Hot Tomato Oil as well.  You can, also, purchase it at the restaurant and online.  Needless to say, we left with a full supply of this wonderful sauce to bring home and enjoy!  I guarantee we will be buying more online until we can go back again.  If you can't get to Syracuse, but would like to try some, just go online and order it.  Trust me when I say, if you order this Pastabilities Daily Spicy Hot Tomato Oil online, you won't be disappointed!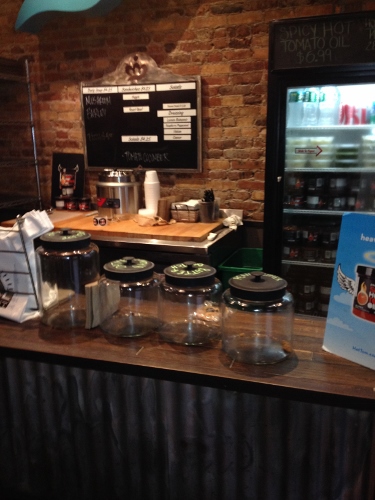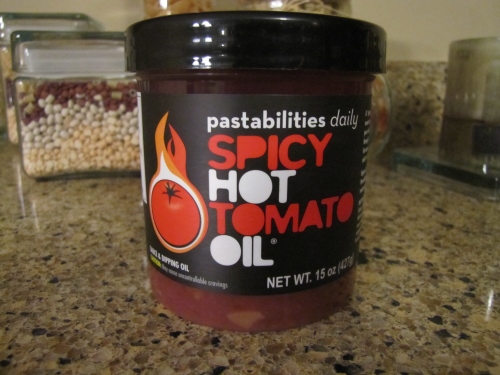 While dining at this fabulous restaurant, Pastabilities, Karyn came and greeted us at our table and told us she would be opening a place behind her restaurant where they would now be making even more homemade pastas, and perhaps having workshops for those interested in learning how they do this.  I would love to be able to attend one of her workshops once they get it going, because everything she makes is above and beyond delicious!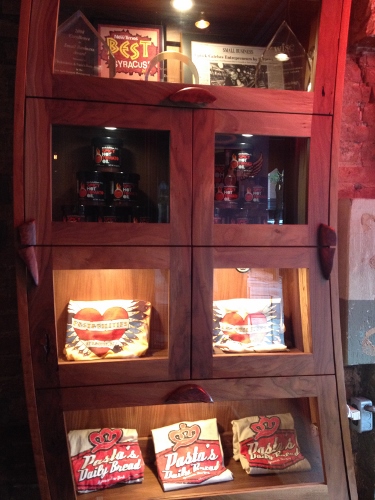 According to her website for Pastabilities, Karyn claims her success is due to the fact that everything is homemade from pastas to desserts.  The breads served with her Pastabilities Daily Spicy Hot Tomato Oil are all baked fresh throughout the day at her own shop. This is all true, and I am glad I had a chance to experience it firsthand.   Pastabilities is one of the best restaurants I have had the pleasure to have had a meal.  But don't take my word for it, since Guy Fieri of HGTV did a whole show on this restaurant and said the same thing!  If you ever have the chance to visit Syracuse, New York, this downtown restaurant is a stop you should put at the top of your list.  So when in Syracuse, New York, be sure to eat at Pastabilities for a great meal! You won't regret it!  Enjoy!
Thank you to owner, Karyn Korteling, for all her help, for allowing me to take pictures of her restaurant for this post, and for taking the time to talk to me about Pastabilities.  Thank you so much, Karyn!