By Jodee Weiland
Years ago in fall we would go apple picking with our children, and when we got home it was time to bake.  We liked to bake Apple Walnut Bread, and we always made enough to freeze some for a later date.  We, also, made Sweet Juicy Homemade Apple Pie.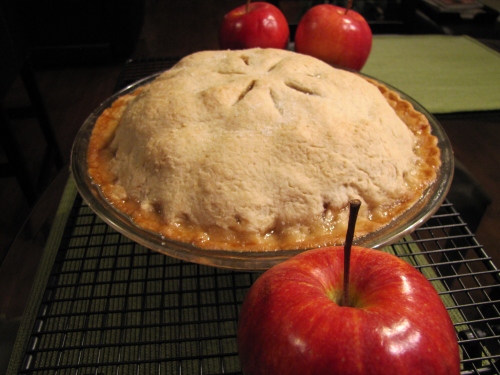 Sweet Juicy Homemade Apple Pie is perfect for apple picking time and perfect for dessert as well. In our family, homemade apple pie is perfect any time because we love it. Consequently, I can't imagine apple picking without baking apple pie!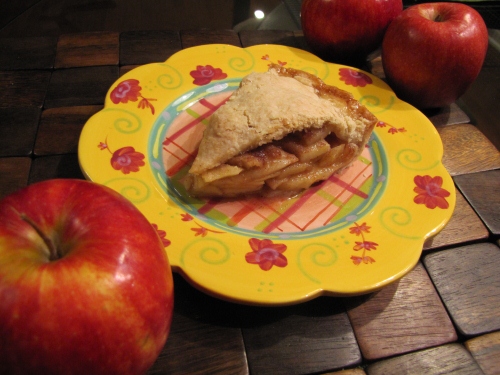 The pie crust we made was usually a combination of the basic recipes we found, and to this we would add what I would call an overload of apples.  Why an overload, you might ask?  Well, I always felt the apples were the healthiest part of the pie, so why not get as many in as possible.  I usually stacked my fresh apple mixture higher than required, but that only made the pie tastier.  Apples cook down so much that piling them high gave me a nice high pie instead of a flatter one.  Call me silly, but that's how I like it!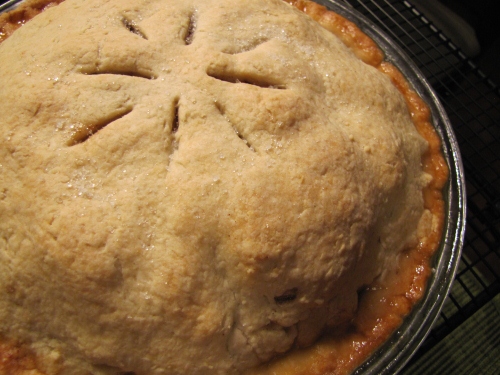 Sweet Juicy Homemade Apple Pie is Perfect for Apple Picking Time!
For the flaky pie crust: (this recipe is enough for the top and bottom crusts)
2 cups all-purpose flour
2 tablespoons sugar
1/2 teaspoon salt
1 cup unsalted whipped butter
6 to 7 tablespoons ice cold water
In a food processor combine the flour, sugar, and salt.  Add the butter and pulse until the texture is crumbly with the butter in small pieces.  Add 1 tablespoon of water at a time, pulsing the mixture as you go.  You may use only six tablespoons of water, but if needed, use more.  Add water until the mixture looks crumbly, but can be formed into 2 balls in your hands.  Refrigerate one ball, while you roll out the other to fit your pie dish on a lightly floured surface.  When rolled to the right size, fold it in half to move to your pie dish.  I use a pastry sheet with printed circles of various sizes to roll out my dough in order to get it the right size and shape.  My pie dish is a 9 inch dish.  The other ball will be rolled out later to create the top crust for your pie.  Refrigerate the pie dish with the bottom crust.
Preheat oven to 350 degrees while finishing your pie filling.
Apple pie filling:
6 to 7 cups of thinly sliced, peeled cooking apples
1 cup sugar
2 tablespoons flour
1 teaspoon cinnamon
1/4 teaspoon nutmeg
1 tablespoon butter
Combine the sugar, flour, cinnamon, and nutmeg.  Gently stir this mixture into your apples.  Spoon the apple mixture into the pie dish with the bottom pie crust. I like to stack it up high, but only high enough so I can still cover it with the top crust.  Cut up the 1 tablespoon of butter and spread it over the top of the apples before putting on the top crust.  Roll out the top crust to fit over the top of your apples and then press the edges together all the way around the pie dish sealing the pie crust edges.  Now cut several small slits in the top pie crust with a sharp knife, so the steam can escape while cooking.  I usually cut eight one inch slits like a star burst at the top.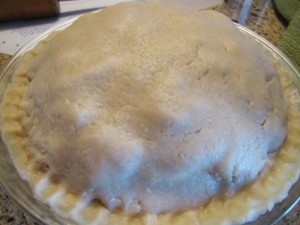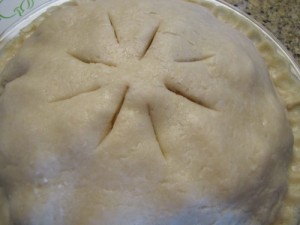 Place the pie dish on a cookie sheet covered in parchment paper to catch any juices from the pie and for an easier clean up afterwards.  Bake at 350 degrees for 50 to 60 minutes until the crust turns a golden brown.  Once done sprinkle a little sugar across the top, then set the pie on a cooling rack for at least one hour before cutting.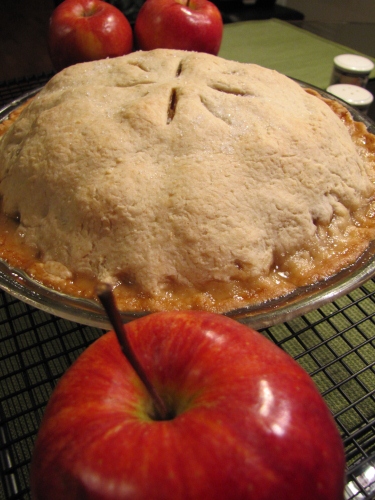 When you serve your Sweet Juicy Homemade Apple Pie, you can either serve it plain or choose to serve it with an ice cream of your choice.  Either way, you will enjoy this delicious sweet and juicy apple pie.  The children love to eat this pie with hot chocolate or just plain milk.  I love a cup of fresh coffee with my pie, but no matter how you choose to eat this dessert, you're going to love it!  This Sweet Juicy Homemade Apple Pie is perfect for apple picking time, so have some fun and finish off your day with a great dessert!  Enjoy!