by Jodee Weiland
Years ago I made a clear broth soup called "Lemony Basil Mushroom Soup" that I found in a grocery store checkout aisle in a paper cookbook called Pillsbury Classic Cookbooks: Hearty Soups & Breads #48.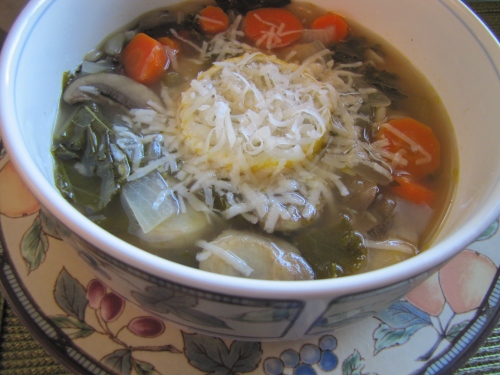 I'm sure you have all seen them on your way checking out.  They are small paperback style cookbooks that change with the seasons and cost only a few dollars, so inevitably shoppers see a recipe on the cover, pick it up, flip through it, and then decide to buy it. Well, I did, and I never regretted the purchase for a second. This recipe was worth the $1.98 that I paid at the time and more.  My family loved this recipe, and I shared it with everyone.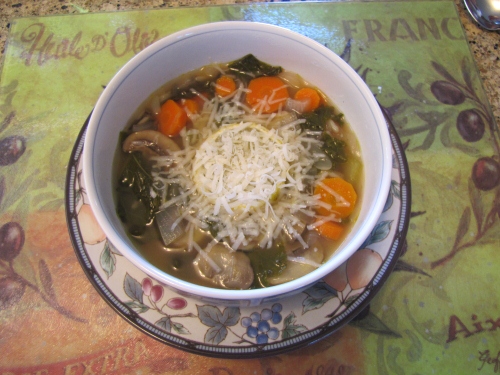 Because we loved it so much, my husband suggested making it with kale, and I did, along with a few other adaptations. In fact, that's how my Lemony Kale Basil Mushroom Soup with a Lemon Slice and Parmesan came to be! I added baby kale to the recipe, deleted the cream of chicken soup, added more carrots and onions, and added the juice of one half of a fresh lemon instead of one teaspoon lemon juice.  The one quarter cup butter was changed to one quarter cup extra virgin olive oil.  I use more all natural chicken broth in place of the deleted cream of chicken soup for a healthier version of the original as well.  These adaptations turned the original recipe into a healthier and even tastier version of the original.  We loved it!  I think you will, too.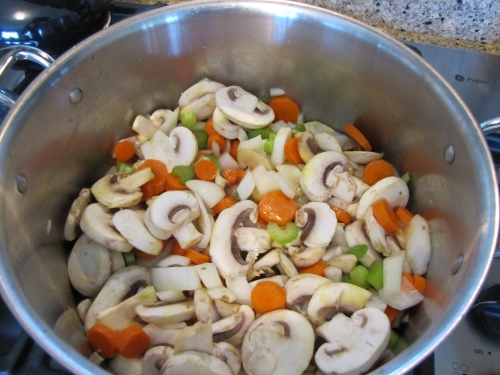 Lemony Kale Basil Mushroom Soup with a Lemon Slice and Parmesan!
1 large sweet onion chopped (about 1 and 1/2 cups)
1 cup sliced celery 1 and 1/2 cups slice carrots
1 pound washed and sliced mushrooms
4 fresh garlic cloves chopped
1/4 cup of extra virgin olive oil
12 cups all natural chicken broth (vegetable broth may be used instead)
1/2 cup sliced fresh basil leaves
2 cups fresh baby kale or kale sliced
1 teaspoon ground black pepper
Juice from 1/2 of a fresh lemon
1/2 cup uncooked wild rice rinsed
1/4 cup uncooked regular rice
Fresh lemon slices
Grated imported Parmesan Reggiano cheese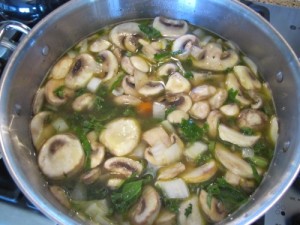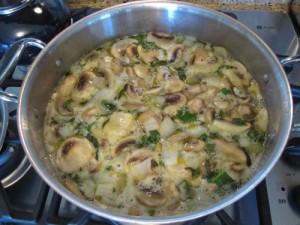 In a five quart Dutch oven, sauté the onions, garlic, celery, carrots, and mushrooms in the extra virgin olive oil until slightly tender.  Stir in chicken broth, basil, kale, black pepper, lemon juice, wild rice, and regular rice.  Bring to a boil, and then reduce the heat, cover the pot, and simmer for 45 minutes or until the rice is cooked.  Serve with a fresh lemon slices and grated Parmesan Reggiano cheese.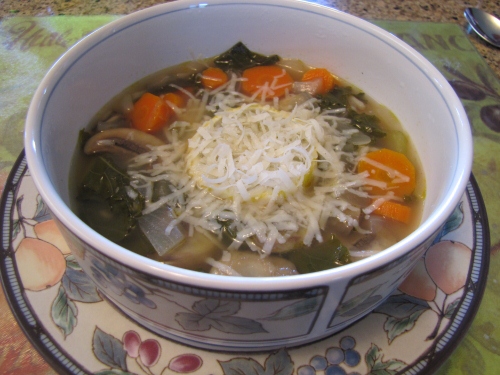 Once done, garnish the soup with a slice of fresh lemon and grated Parmesan Reggiano cheese.  I like to add a crusty loaf of Rosemary Olive bread from the bakery and a nice glass of Pinot Noir.  Lemony Kale Basil Mushroom Soup with a Lemon Slice and Parmesan is a clear broth soup that is so hearty and has so many fresh vegetables that the health benefits are wonderful.  If you're looking for a completely vegetarian soup, an all-natural vegetable broth may be used in place of the chicken broth. Whichever you decide to use, this soup is loaded with good nutrients and tastes wonderful!  If you try it, I know you will like it, so enjoy!
Featured on 9 FANTASTIC SOUPS FOR WINTER | BEST OF THE WEEKEND PARTY at the blog, A LittleCLAIREification, written by Claire!