By Jodee Weiland
I love baked sliced potatoes because they taste great when seasoned right, and they are so easy to make.  Whenever I buy a large bag of potatoes, I always ask myself how I will ever use that many potatoes, especially since it's just me and my husband most of the time.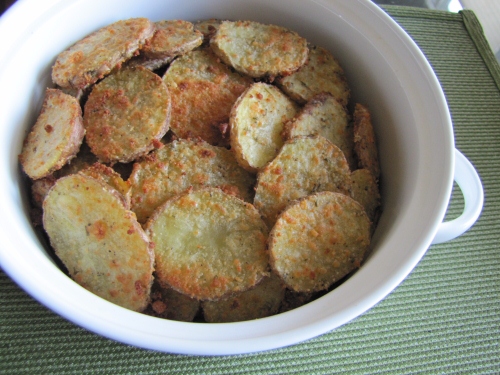 If the kids are in town, that's great, because there is no problem using large quantities of most foods, potatoes or otherwise.  But when it's just the two of us, I have to figure out ways to make sure things don't go to waste.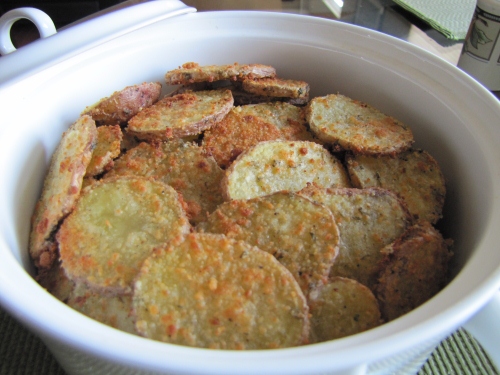 That's one of the reasons I decided to make my Baked Parmesan Sliced Potatoes.  I cook using for the most part a Mediterranean style of cooking.  The reason for this is twofold.  First, I'm Italian, and that's the type of cooking I grew up with as a child.  Second, as most of us know these days this is one of the healthiest ways to eat, if done right, and I am a health nut.  So I decided to bake my potatoes like my father often did when I was growing up.  But I have adapted the recipe a little in order to make it healthier.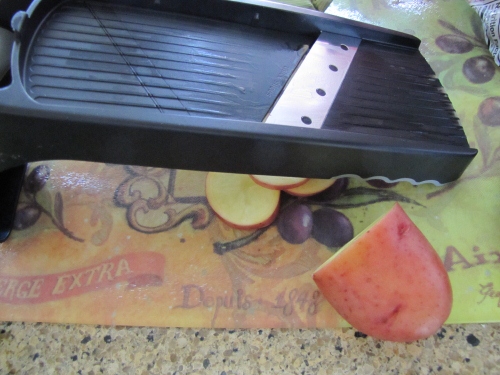 My father used to make the best potatoes, cutting them into wedges, seasoning them with garlic and onions, and frying them in extra virgin olive oil.  They were great.  Later, he even baked them.  What I have done with his recipe is to add a little more seasoning.  I added parsley and black pepper first.  Then I added on the Parmesan Reggiano cheese.  And remember, these are not potato chips.  They are baked potato slices.  There is a difference!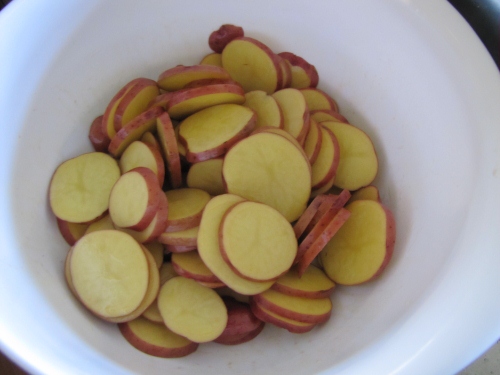 Baked Parmesan Sliced Potatoes…Easy and Delicious! 6 or more potatoes (I used red Potatoes) sliced about 1/4 inch thick Extra virgin olive oil as needed Garlic powder to taste Onion powder to taste Parsley flakes Sea salt to taste (optional) Ground black pepper to taste Grated Parmesan Reggiano (enough to sprinkle over the tops of the potatoes) Preheat the oven to 400 degrees.  Cover the cookie sheets with parchment paper for an easy clean up.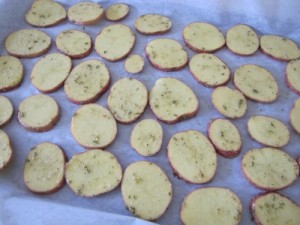 Wash and scrub the potatoes with a vegetable brush.  With a mandolin slicer or a knife, slice the potatoes about 1/4 inch thick.  Put the potato slices in a bowl and drizzle with enough olive oil to coat all the slices.  Then put the onion powder, garlic powder, parsley flakes, salt, and black pepper in to taste and one at a time, stirring with a spoon and making sure all slices are seasoned.  When this is done, place the seasoned slices on the baking sheets.  Then take your grated Parmesan Reggiano cheese and with a spoon, lightly coat to taste each slice by sprinkling on the cheese.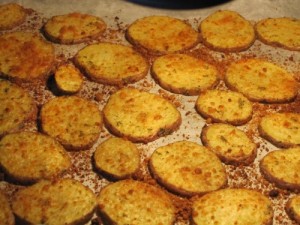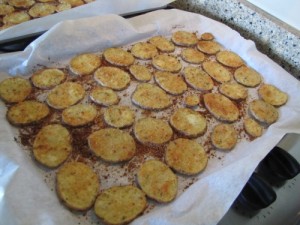 Bake at 400 degrees in oven for 18 to 22 minutes.  Watch closely and check with a fork to see if the slices are done.  They should be like fries, but not completely dried out like potato chips.  These are baked slices, not potato chips, unless you want them like that.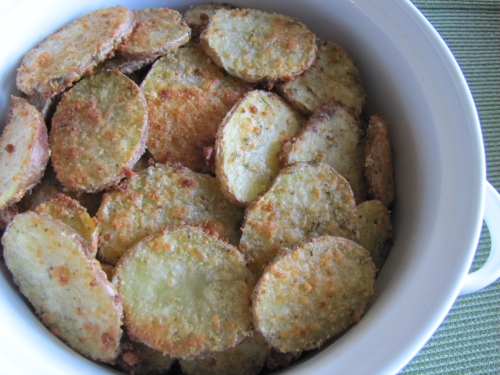 These Baked Parmesan Sliced Potatoes are delicious!  We served ours with grilled filet mignon, Grilled Corn on the Cob with Jalapeno Lime Seasoning, and a nice red wine.  The meal was great and the flavors blended nicely.  I feel certain that if you try this recipe, you will find it not only easy, but worth what little effort it takes.  I would suggest a mandolin slicer though because that makes preparation of the potatoes so easy.  Try this recipe soon, and enjoy!