By Jodee Weiland
Want an oatmeal cookie or do you want something a little bit more? Me? I'll take the something a little bit more, but something a little healthier as well. Oatmeal Banana Walnut Cookies…with Mini Chocolate Chips anyone?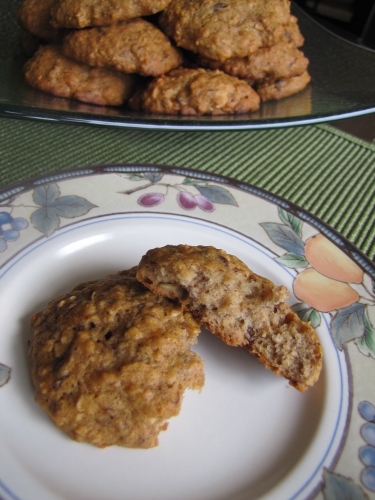 I love a good oatmeal cookie, but lately I've been craving something a little bit more and a lot healthier than the average oatmeal cookie.  So I decided to put something together that meets that criteria for me and my family!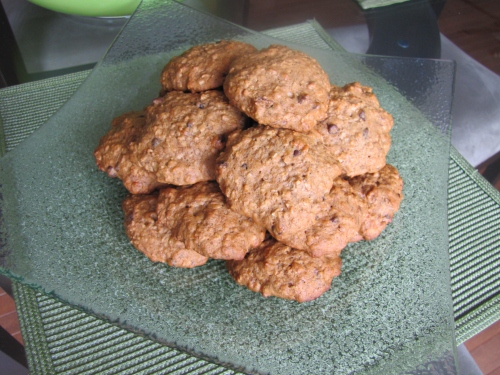 My oatmeal cookies have mashed bananas and honey in them instead of brown sugar or sugar.  These cookies will not give your kids a sugar high, but they will soon be a favorite, not to mention a healthy treat.  I also added chopped walnuts, which I love, and mini semi-sweet chocolate chips for additional flavor, but just enough.  I was tired of raisins, but you can add them to this recipe if you want, although I think you will like these cookies without raisins.  I used whipped unsalted butter which is lighter and healthier than regular butter. And of course, the main ingredient is the oats, which are always healthy.  So try these cookies and find out for yourself just how good they are.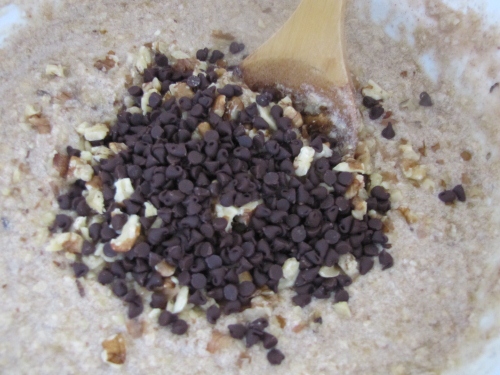 Oatmeal Banana Walnut Cookies…with Mini Chocolate Chips
3/4 cup of whipped unsalted butter
1 cup honey
1 egg
1 cup mashed bananas
3/4 teaspoon baking soda
3/4 teaspoon baking powder
1/4 teaspoon salt
1 teaspoon cinnamon
1/2 teaspoon nutmeg
1 cup oats
1/2 cup chopped walnuts
1/4 cup semi-sweet mini chocolate chips
1 and 1/2 cups all-purpose flour
I like to use parchment paper on my baking sheets for easier clean up when done baking the cookies.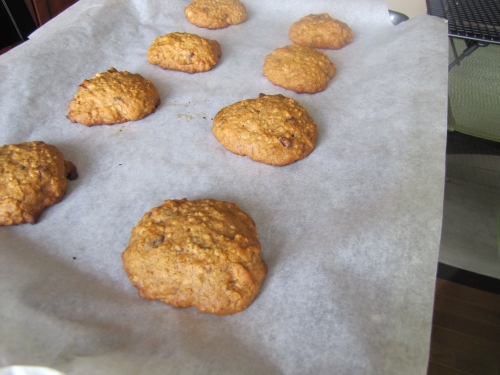 Cream together the butter and the honey with a mixer.  Add in the egg first and then the mashed bananas, blending them into the mixture with your mixer.  Continue to blend in the baking soda, baking powder, salt, cinnamon, and nutmeg with your mixer.  Now with a spoon, add in the oats and blend together.  Then add the walnuts and mini chocolate chips, again mixing in with a spoon.  Finally, gently mix in the flour, a little at a time, by stirring in with a spoon.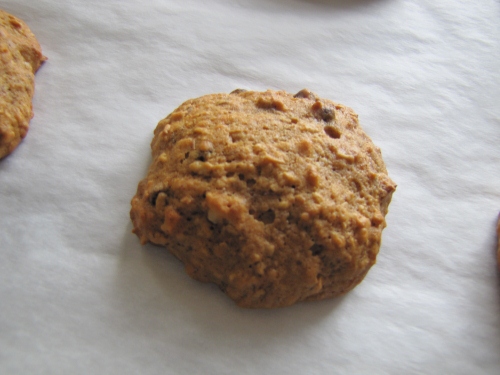 Once this is all mixed together, drop tablespoon balls on to the cookie sheet, leaving room between cookies because they will spread out some while cooking.  Bake at 375 degrees for about 15 minutes.  The time may vary depending on the size of the cookie you drop on the baking sheet.  To be sure watch your first batch and check the bottom of the cookie by gently lifting with a spatula.  The bottom should be lightly browned but not burnt.  I made about thirty cookies from this recipe.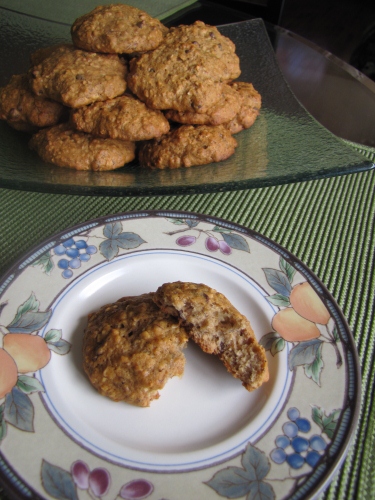 These Oatmeal Banana Walnut Cookies are delicious and a healthy alternative to store bought cookies or even recipes made with sugar.  They're sweet, but not sugary.  Plus they have oats, mashed bananas, walnuts, and mini chocolate chips.  Your family will love them, and only you will know just healthy they really are.  We love these cookies in our home.  I think if you try them, you will love them, too.  So try them, and enjoy!