By Jodee Weiland
Grilled flank steak is always good when done right.  We like to marinade our flank steak before grilling it.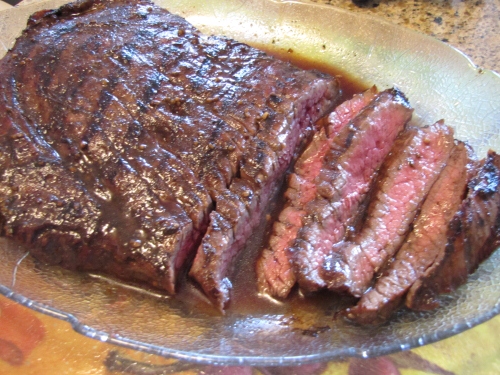 We've used a number of different marinades and like everyone else, we have our favorites.  But today we decided to try something a little different.  I keep seeing recipes with balsamic this or that lately, so I thought, why not?  Why not try a balsamic marinade with our flank steak?  I'm glad I did, because it turned out great, just like I thought it would.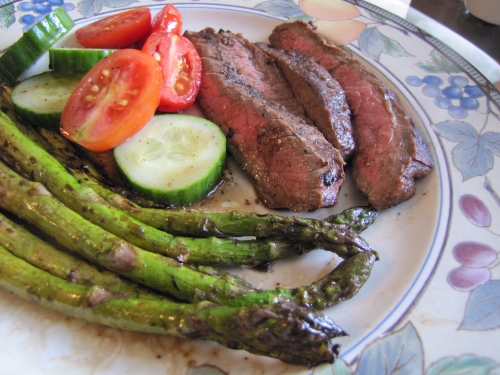 I love the flavor of balsamic vinegar in various recipes because of its sweet taste versus other vinegars.  Putting it together with olive oil, garlic, and some additional seasonings seemed a good idea.  As it turns out, it was.  We tried it today, and it really did add to the taste of our grilled flank steak.  It isn't hard to marinade a flank steak before grilling it and taking the time to do so adds flavor to your flank steak.  If you try this recipe, I think you will be pleased with the results.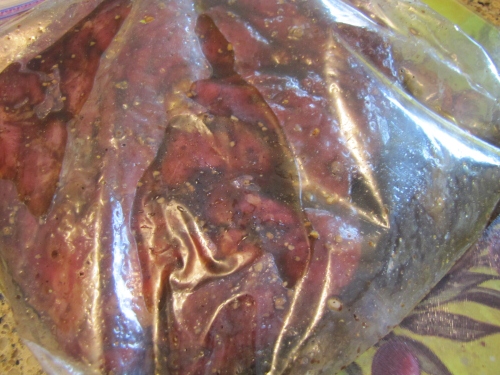 Grilled Flank Steak…Perfection with a Balsamic Marinade
1-1/2 to 2 pound lean flank steak 1/3 cup extra virgin olive oil 1/4 cup balsamic vinegar 1/8 teaspoon ground cayenne pepper 1/2 teaspoon black pepper 1 to 2 cloves garlic chopped 1/2 teaspoon onion powder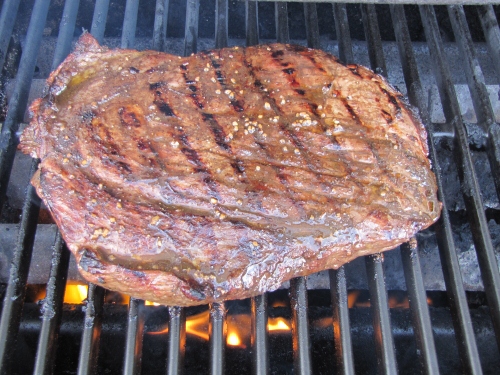 Mix all the marinade ingredients above together in a Ziploc and put your flank steak in the bag.  Seal the bag and turn it over several times in order to cover the steak in the marinade.  Place the sealed bag in the refrigerator for 45 to 60 minutes before grilling or longer.  Occasionally, turn the bag in the refrigerator in order to marinade the steak thoroughly.  When ready, grill the flank steak about 3 to 5 minutes, more or less, on each side, depending on how you like your steak done.  This will vary according to taste.  When done, allow the steak to rest for a few minutes and then slice it diagonally.  Once done, serve.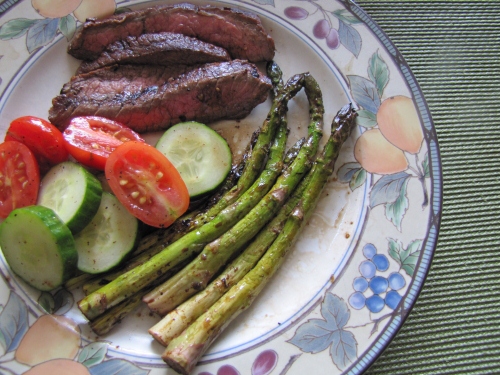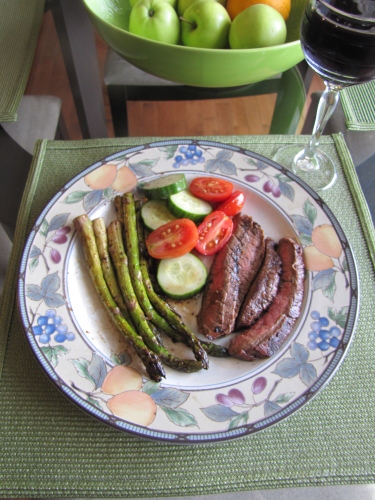 This grilled flank steak recipe is very tasty, but not overpowering.  The hint of taste from the balsamic vinegar and seasonings is just enough to flavor the steak without losing the flavor of the steak itself.  Best of all, it's easy to do.  Serve your grilled flank steak with a vegetable and something like red potato salad with vinegar and olive oil for a full meal, or serve with just a vegetable for a little lighter meal.  Some other good grilled vegetables choices are grilled balsamic asparagus or grilled zucchini.  It's your choice and either way, you will love it.  I know we do!  Try this recipe and enjoy!