By Jodee Weiland
Years ago, I wanted a healthy baked chicken breast recipe for my family that tasted like fried chicken or better without frying it.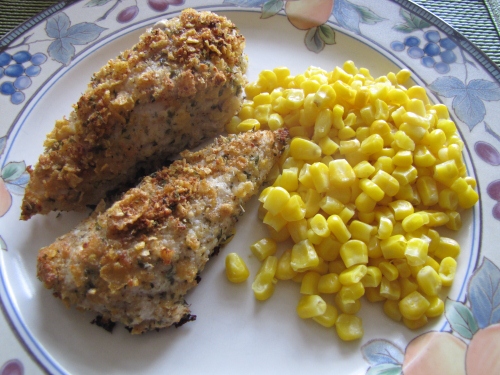 The recipe I ultimately came up with is the result of what I thought would taste good together after trying several different recipes I found in various heart healthy cookbooks and articles.  I played around with a few different things and finally came up with my own adapted version of oven baked chicken.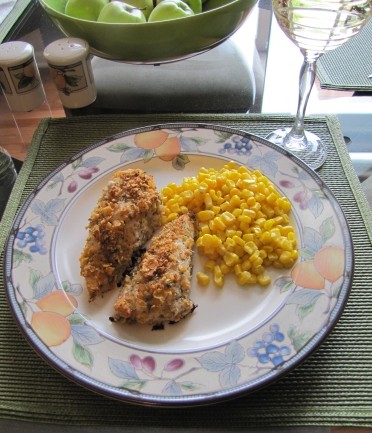 First of all, I use chicken breasts that are boneless and skinless, not chicken legs or thighs.  You can use legs and thighs, but be sure to use skinless.  The second thing I do is to soak my chicken in skim milk, although you can use low fat or whatever kind you like.  The third thing I do is to use crumbled corn flakes instead of bread crumbs and I add Parmesan cheese and seasonings to my mixture.  Last of all, I oven bake my chicken.  It all adds up to tasty chicken that is healthier than fried chicken. As I have said before many times, I am a health nut, but that doesn't mean I want to eat bland tasteless food.  That just wouldn't work for me.  After all, I'm Italian, and I love good food, so here it is.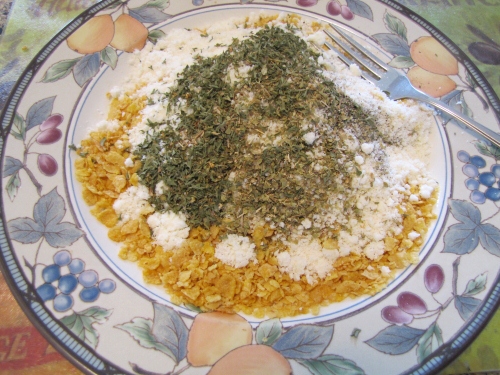 Oven Baked Chicken Breasts…Tasty and Healthy
2 to 4 boneless chicken breasts without skin
Skim milk for soaking chicken
1/2 to 1 cup corn flakes crushed
1/2 to 1 cup grated Parmesan Reggiano cheese
1/2 to 1 tablespoon dried parsley
1/2 to 1 tablespoon dried basil
1/4 to 1/2 teaspoon ground black pepper
Olive oil spray
Spray baking pan with olive oil.  Cut chicken breasts in half in order to coat more of the chicken (this is optional, but in my family we like more coated pieces).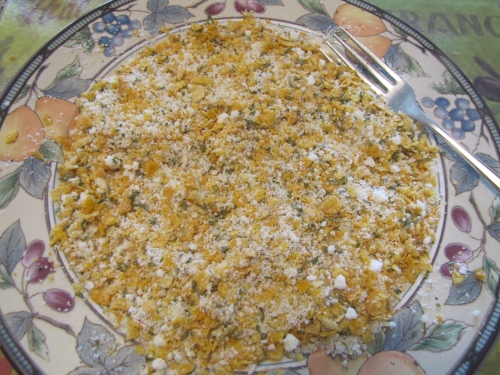 Crush the corn flakes by putting them in a sealed plastic bag and running your rolling pin over the bag.  Once crushed, mix in the Parmesan cheese, parsley, basil, and black pepper. Mix together well.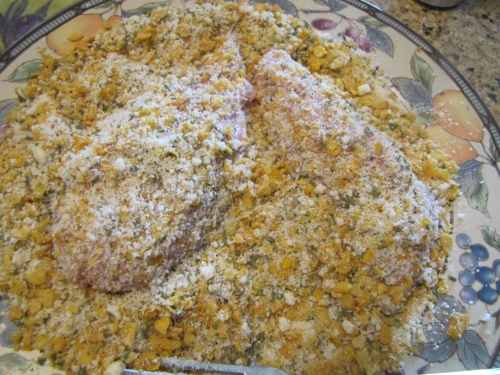 Soak the chicken breast pieces in the skim milk, then dip into the mixture of corn flakes and parmesan cheese coating completely.   Place the coated chicken breast pieces in the prepared baking pan.  Then bake at 375 degrees for about 30 minutes.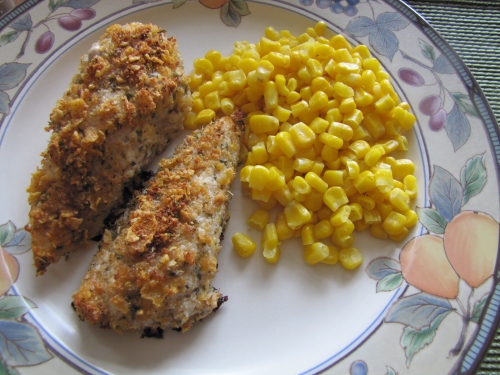 The blend of corn flakes and Parmesan Reggiano cheese with seasonings as a coating for this oven baked chicken makes it not only very tasty, but healthy as well.  Serve your oven baked chicken with the sides of your choice and enjoy a meal that is not only satisfying but has an abundance of flavor as well.  The coating is crunchy and when the chicken is baking, your whole house will smell great!  This is definitely an appetizing alternative to fried chicken and as far as I'm concerned, it's better.  If you try it, you will know exactly what I mean.  Try it and enjoy!