By Jodee Weiland
When my children were younger, I was always trying to find ways to make dinner more interesting to them.  One of the things I tried was making my meatloaf like a jelly roll cake putting cheese and broccoli in the center.  I even tried calling it cheeseburger meatloaf.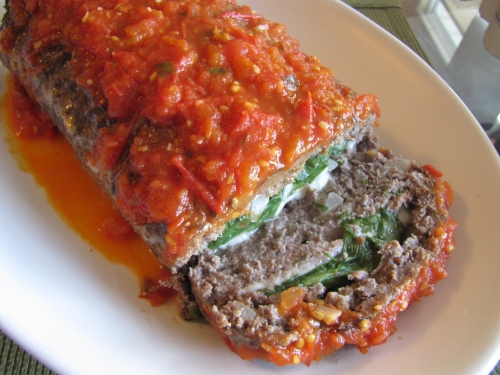 It worked out pretty well and is the inspiration for my newest recipe.  In this Rolled Italian Meatloaf…With Spinach, Mozzarella, and Fresh Tomato Basil Sauce, I've taken my recipe to a whole new level. This recipe is, without a doubt, the tastiest meatloaf I have ever made.  Here at home, it got rave reviews from my husband!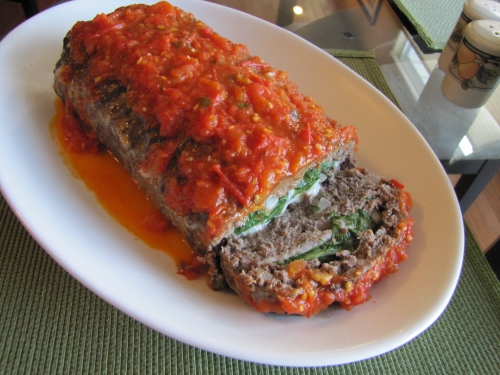 Instead of broccoli, I chose to combine mozzarella and spinach for the center of my Italian Meatloaf recipe.  To finish it off, I made a tomato basil sauce from fresh garden tomatoes.  Also from my garden, I used fresh basil and parsley in the meatloaf mix.  I love using fresh vegetables and herbs from the garden, so with the season winding down, I am looking for recipes that make the most of my garden.  When you taste this recipe, you will want to make it over and over again.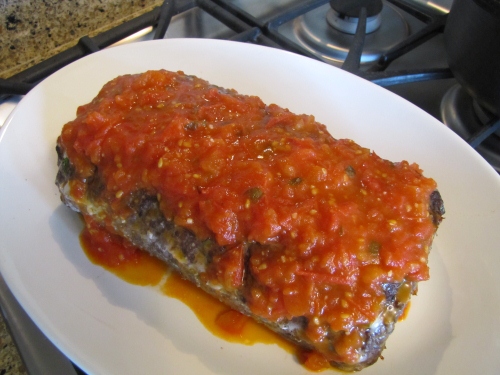 Rolled Italian Meatloaf…With Spinach, Mozzarella, and Fresh Tomato Basil Sauce
For the Italian Meatloaf
2 to 2 1/2 pounds ground sirloin
2 eggs ( I use egg whites)
2 cloves garlic chopped or 1 teaspoon minced garlic more or less to taste
1 medium onion chopped or 1 tablespoon dried chopped onion
2 tablespoons snipped and chopped parsley or 1 tablespoon dried parsley
2 tablespoons fresh basil sliced and chopped or 1 tablespoon dried basil
1 teaspoon black pepper or to taste
1/2 teaspoon red cayenne (optional)
1/2 to 1 cup grated imported Pecorino Romano cheese ( more or less to taste/ no salt needed since the cheese adds saltiness)
3 or more slices of mozzarella
2 cups fresh baby spinach leaves
Preheat oven to 350 degrees and prepare meatloaf pan by coating with olive oil.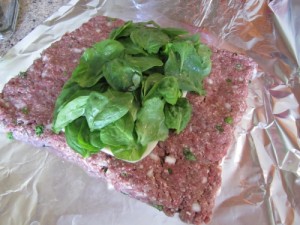 Add egg whites to the ground sirloin first, then the imported Pecorino Romano cheese. Blend together. Then add the remaining ingredients. When well blended together, put the meat mixture on a large piece of heavy aluminum foil.  Flatten the meat out a little longer than your pan and wide enough to fold over at least once from each side.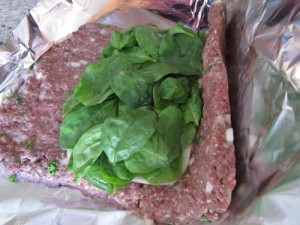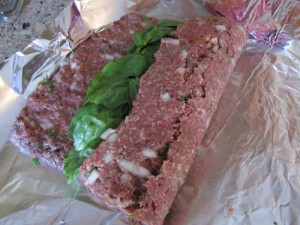 Once flattened out in a rectangle, first put the mozzarella slices across the middle and then top that with your spinach leaves.  Remember the spinach will cook down quite a bit.  Using the foil to lift the meat, fold over one side at a time, covering the spinach and mozzarella.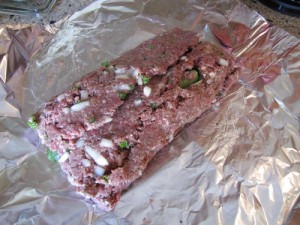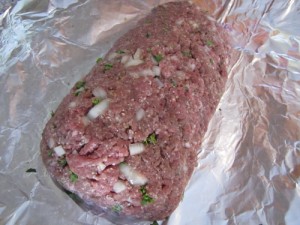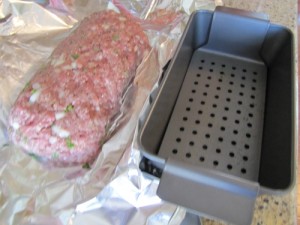 Once folded over, shape your meat into your loaf making sure you fold in the ends of the loaf as well.  Form the meat into a loaf size meatloaf.  It should fit right into a loaf pan. I always spray my pan with olive oil before putting in the meatloaf. I use a loaf pan with an insert that can be lifted out after cooking, so that any juices from the meat can drain to the bottom, rather than have my meatloaf sit in them. Bake at 350 degrees for about 50-55 minutes. Check meat to make sure it is done how you prefer it.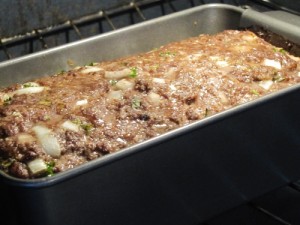 While this is cooking, prepare your Fresh Tomato Basil Sauce to pour over the meat loaf when done cooking and ready to serve.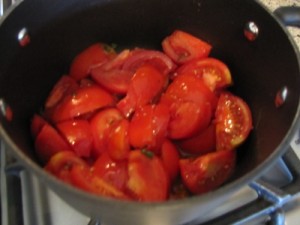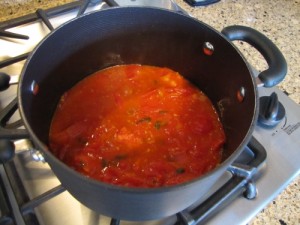 For Fresh Tomato Basil Sauce
2 tablespoons extra virgin olive oil
5 to 6 fresh medium to large tomatoes cut into pieces
1 to 2 cloves garlic chopped
4 fresh basil leaves sliced and chopped
1 teaspoon sugar or 1 finely grated carrot (I use sugar, but some people prefer using a carrot)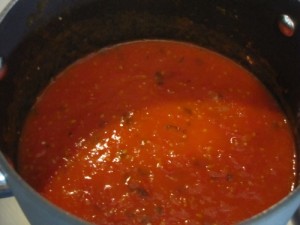 Put the olive oil, garlic, and basil into a sauce pan over a low heat.  Add tomatoes and sugar, cooking over a medium heat covered, but stirring occasionally.  Once the tomatoes cook down enough, cool slightly and put the sauce in a food processor to puree.  Using the pulse button, gently puree without doing so completely.  You want some texture left on your sauce from the tomatoes. Put the sauce back into the sauce pan and simmer over a low heat uncovered to the desired consistency.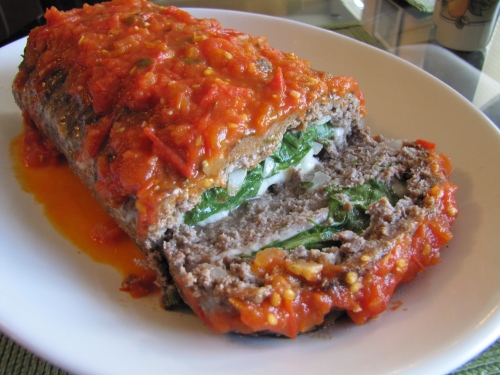 When the Rolled Italian Meatloaf…With Spinach, Mozzarella, and Fresh Tomato Basil Sauce is done cooking put the meatloaf on a serving platter and pour some of the Fresh Tomato Basil Sauce over the top, reserving enough to pour over individual servings.  Serve this meal with a salad, a crusty loaf of bread, and a red wine for dinner.  Your family will love it.  The flavors of the meatloaf with the spinach and mozzarella, then topped with the fresh tomato basil sauce are outstanding.  I know if you try it, you're going to love it, so enjoy!