By Jodee Weiland
We love grilled zucchini in our home any time of the year!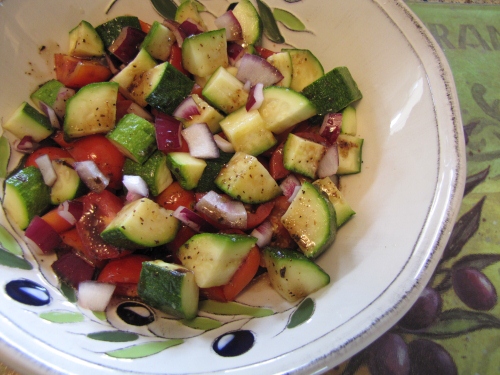 At our house in the summer months, it is not unusual for us to grill our meals.   As I have mentioned before, we actually grill all year long, even when it's snowing out, so in the summer, we grill even more.  Grilling meats, fish, and vegetables on our gas grill is a healthy alternative as well.  Sometimes though, we will grill more than we need, especially with grilled zucchini.  We love it, so when we pick out zucchini to grill, we tend to buy more than we need.  The question then is what to do with the leftover grilled zucchini without turning it into mush.  I have a great recipe for that!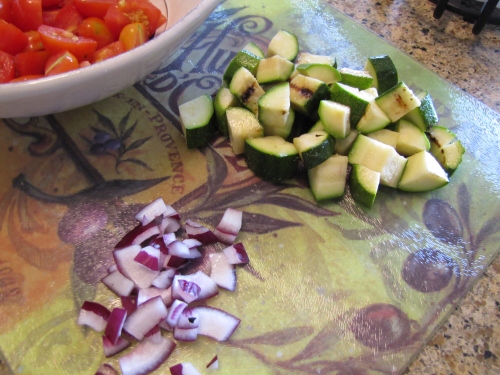 I got the idea to put our leftover grilled zucchini together with tomatoes for a salad when I had an abundance of Roma tomatoes from my garden that needed to be used.  I love both, so I thought why not combine these two foods with a little red onion and toss it together with some Balsamic vinaigrette for a salad.  Tomatoes and zucchini have always gone together well, so this was an easy way to use up two items in my kitchen that I did not want to see go to waste.  Besides that, I knew it would taste great, be easy to put together, and be healthy as well.  I was right and now it has become a new favorite for me and my family!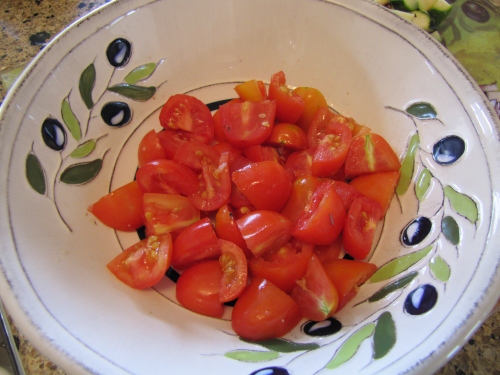 Grilled Zucchini and Roma Tomato Salad…A Great Side Dish for Any Meal 
8 to 12 fresh Roma tomatoes quartered
1 to 2 grilled zucchinis cut lengthwise into quarters and then cubed
1 slice of a large red onion or more diced
Balsamic vinaigrette to taste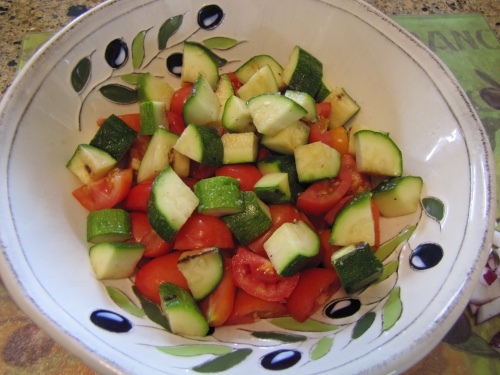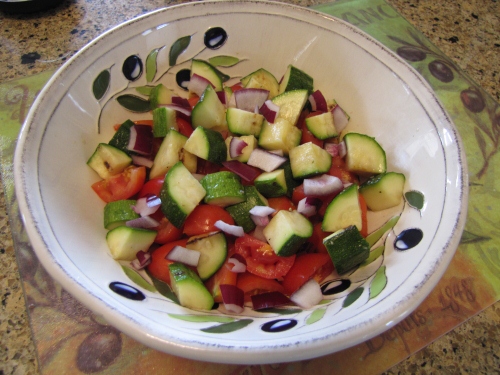 Wash and quarter the Roma tomatoes.  Take the cold grilled zucchini and cut into bite size cubes and add this to the quartered tomatoes.  Cut one slice of a large red onion up into diced pieces.  Add this to the tomatoes and grilled zucchini.  Drizzle with balsamic vinaigrette to taste and serve.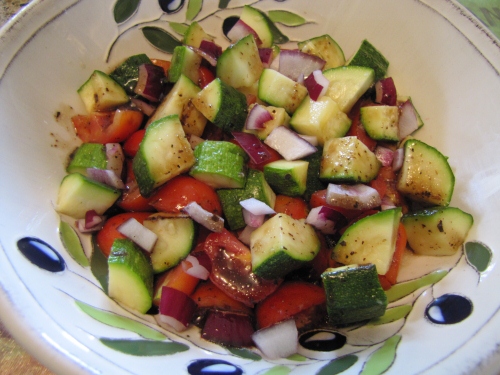 Not only does this salad taste good, but it also adds a colorful side dish to your table.  The truth is it is so good, I probably will be making sure I have some leftover grilled zucchini when we have it, so I can make this salad the next day with dinner.  The tastes blend together just right because your zucchini is already seasoned from grilling it.  Then adding the red onion and balsamic vinaigrette adds just the right blend of flavors enhancing both your tomatoes and zucchini.  It's a great way to use all those summer tomatoes and any leftover grilled zucchini.  You can even add other leftover grilled vegetables and change it up a little.  Be creative and when you eat this salad, enjoy!