By Jodee Weiland
With summer here and the vegetable garden growing, I picked some baby kale leaves from my garden before the weather got too hot.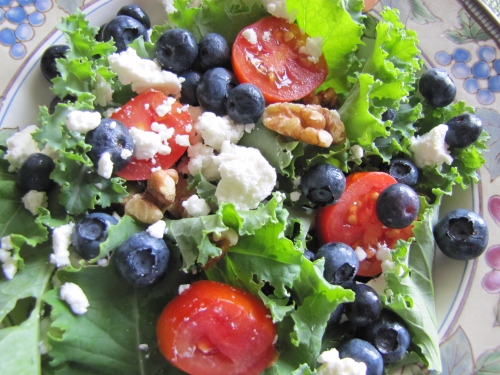 Kale and high heat do not go well together.  The kale has a tendency to get bitter tasting, so clipping baby kale leaves prior to our higher temperatures made this salad an easy, tasty, and healthy addition to our dinner table.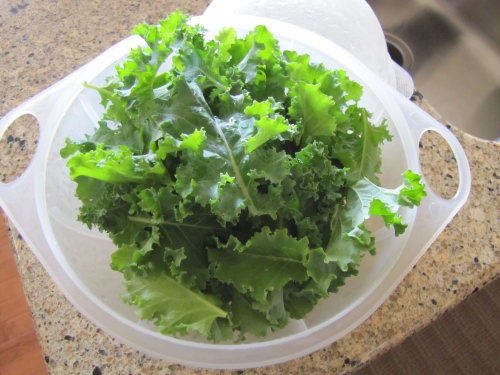 After picking my kale leaves and cleaning them, I put them in the fridge overnight in my crisper.  This preserves the kale, but it also gives it a crispy texture that I enjoy in my salads.  There's nothing I hate more than a limp salad, what I have been known to refer to as dead lettuce or kale leaf.  Freshness is important when preparing food, so I like to use a crisper with fresh greens.
Putting this together was simply a matter of choosing the right ingredients to create the flavor I was looking for in a kale salad.  Because kale tends to have a different flavor from various lettuce types, I felt it needed both a touch of some typical salad ingredients and then some sweeter tones by adding fresh blueberries and using a raspberry vinaigrette salad dressing.  I love raspberries and blueberries together, so bringing the two together in this ways seemed a natural to me.  Add in the creamy flavor of crumbled goat cheese and the crunchy touch of walnuts along with a Roma tomato, and you have a delightful tasting kale salad.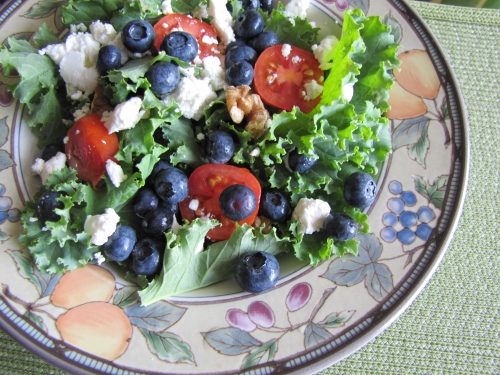 Kale Salad…With Goat cheese, Walnuts, Roma Tomato, and Blueberries
These ingredients are per salad serving:
1 to 2 cups cleaned baby kale leaves
1/4 cup walnuts
1 slice Roma tomato
1 ounce crumbled goat cheese
I/4 cup fresh blueberries
Raspberry vinaigrette salad dressing
Clean your baby kale leaves and place in a crisper overnight.  The next day put the kale leaves in your dish, and then add the walnuts.  Crumble the goat cheese over the top of the salad.  Add your sliced Roma tomato and the blueberries.  Finish this off with a raspberry vinaigrette salad dressing.
Putting this salad together couldn't be easier, and the taste is absolutely delicious.  All the flavors blend together well, making this salad refreshing and very tasty.  Not only is it tasty, but by using kale, the nutritional value and health benefits are much higher than using regular lettuce.  This salad is a great side to any meal, but it can also be eaten by itself as a meal.  On a hot summer day, this salad, a crusty loaf of fresh bread, and a glass of wine would be an excellent choice for a meal.  The salad by itself is about 363 calories without dressing.  It has about 13 grams of protein and because of the kale is high in natural Vitamin A.  Read up on kale, and you will be amazed at the health benefits, such as lowering cholesterol, helping to prevent cancer, and more.  So if you decide to try this salad, remember it not only tastes good, it's healthy as well.  Enjoy!