By Jodee Weiland
One of our favorite ways to have chicken is an old Italian classic, Chicken Cacciatore.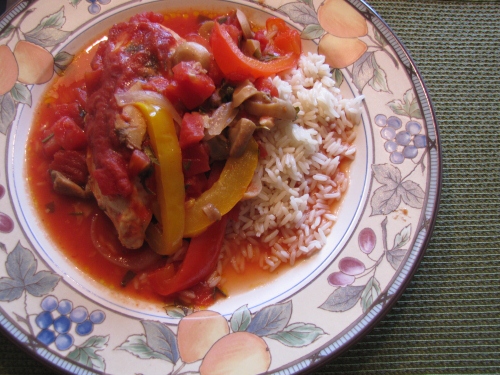 Sometimes things get hectic around our house, and we find ourselves running from one place to the next doing errands.  When that happens, a meal made up in a crockpot can be the best answer to a great homemade meal at the end of a hectic day.  That's why I decided to take my recipe for Chicken Cacciatore and adapt it slightly for the crockpot.  It really wasn't difficult, since this dish is typically made in a rich red sauce, and either served with rice or pasta.
On a day when things are hectic, I find using rice with my Chicken Cacciatore the easiest way.  On a really hectic day, I just use microwavable rice cups, which is practically effortless.  It works well and saves time.  On a day with plenty of time, a creamy parmesan risotto works nicely with this dish.  Either way, the Chicken Cacciatore is wonderful, and the whole family will love it.
 Chicken Cacciatore…a Classic Italian Chicken Delight in a Crockpot!
1 large onion thinly sliced
3 cloves garlic chopped
2 tablespoons extra virgin olive oil
2 red/yellow bell peppers sliced
1 cup of sliced mushrooms or a 4 ounce can of sliced mushrooms
1 to 2 tablespoons fresh basil chopped (or 1 to 2 teaspoons dried basil)
1 tablespoon fresh rosemary chopped (or 1 teaspoon dried rosemary)
1 to 2 bay leaves
4 boneless chicken breasts without skin
1/2 teaspoon sea salt
1/2 teaspoon ground black pepper
14.5 ounce can of diced tomatoes
1 tablespoon sugar or less (some people prefer to use 2 carrots finely shredded or chopped for sweetness)
15 ounce can of crushed tomatoes
1/4 cup water (optional)
Freshly grated imported Parmesan Reggiano cheese (optional)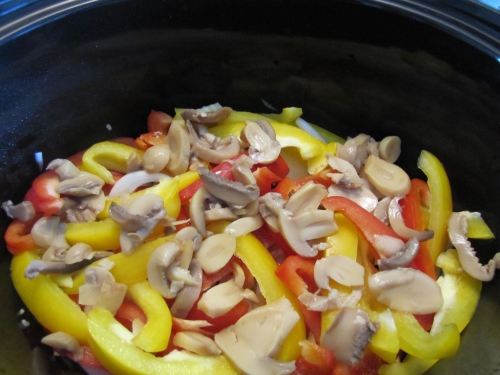 Spray crockpot sides and bottom lightly with extra virgin olive oil for faster cleaner up later.  After putting extra virgin olive oil in the bottom of the crockpot, layer the onions slices, chopped garlic, and finally, the sliced bell peppers.  Top this with the sliced mushrooms, covering it with the chopped basil, rosemary, and then add the bay leaves.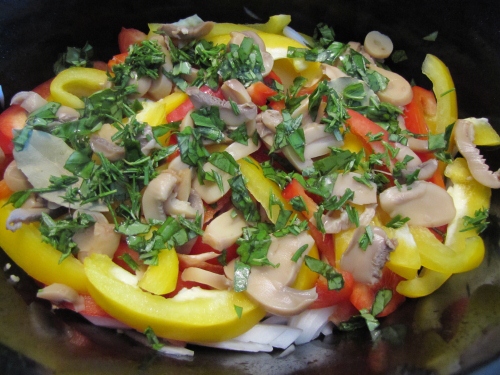 Now brown the chicken breasts lightly, adding salt and pepper to taste.  Do not cook the chicken breasts through, but just lightly brown them for a few minutes before adding them to the crockpot on top of all the vegetables.   Once the chicken is in the crockpot, pour the can of diced tomatoes over it.  Sprinkle this with the tablespoon of sugar.  Finally, pour the can of crushed tomatoes over the top of the chicken breasts being sure to cover them.  Then pour 1 cup of water around the edges of the crockpot without disturbing the crushed tomatoes covering the chicken. This last step is optional for those who like the sauce thinner.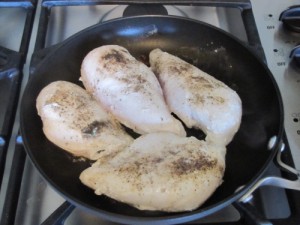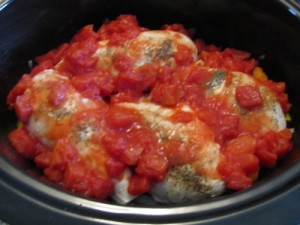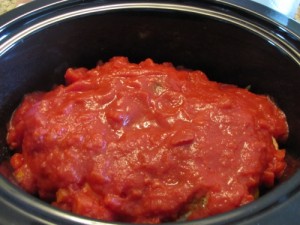 Turn the crockpot on high and cook covered for about four hours.  Prior to serving, decide what kind of rice you want to use and prepare it.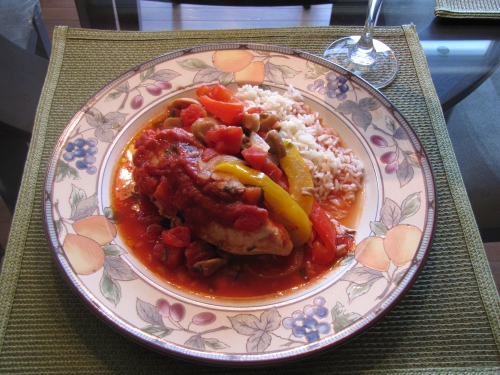 This dish is absolutely wonderful, and your family will not be disappointed with the results.  Serve it with a salad and a glass of Chianti, while you savor the blending of the rich flavors and taste.  The meal can cook while you do other things, but when you walk in the door from outside the rich aromas of this flavorful dish will greet you and with very little trouble, you will be ready to sit down and eat a superb meal.  If you like, you top it off with a little freshly grated Parmesan Reggiano cheese, but that is optional.  Take your time, relax, and enjoy!