By Jodee Weiland
We were about to have a barbecue with family, and I had everything picked out for the menu.  Actually, I had everything picked out to make except one thing, and that was what type of potato dish.  I didn't want to make baked potatoes again, but a potato salad like the one mom used to make didn't seem a very healthy alternative.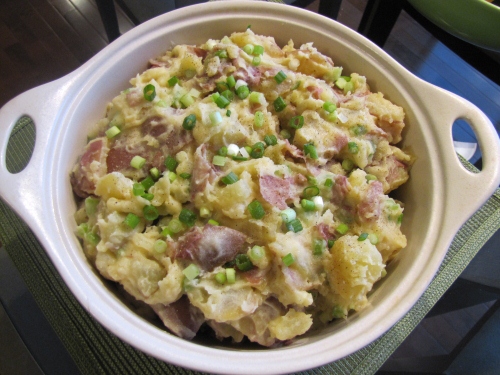 Don't get me wrong it was delicious with eggs, mayo, mustard, onions and celery, but not good for a heart healthy diet, and that is what we try to follow in our house these days.  With that in mind, I came up with an alternative.
I decided to use red potatoes, olive oil, Dijon mustard, fat free Miracle Whip, green onions, and celery.  I wasn't sure how this would turn out, but I played it by ear, and by the time I finished making this new potato salad, I had to stop my husband from eating too much.  After all, I wanted enough left for the guests who were coming the next day.  So here it is, and this is what I did to make our healthier version of potato salad.
Red Potato Salad with Vinegar and Olive Oil…Plus a Little Something  Extra!
4 pounds red potatoes cooked and cubed with skins
3/4 cup of celery chopped
1/3 cup green onions chopped
1/2 cup extra virgin olive oil
1/2 cup red wine vinegar
1/4 teaspoon black pepper
1/2 cup fat free Miracle Whip
1/8 cup Grey Poupon Dijon mustard
1 chopped green onion to sprinkle over top of finished recipe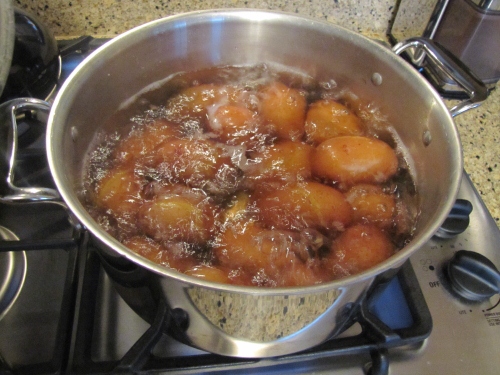 Wash and boil the red potatoes in lightly salted water for about 20 to 25 minutes in a covered pot.  When done, drain the potatoes and run cool water over them.  Once cool, cube the red potatoes with skins.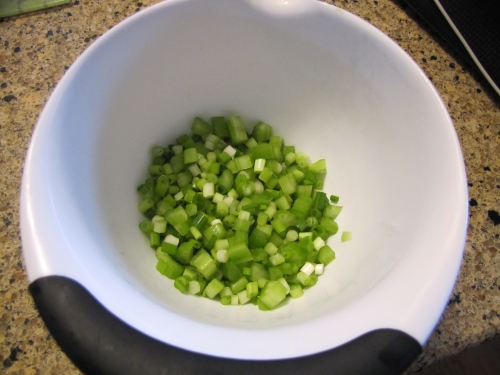 Chop the green onions and celery while the potatoes are cooking.  When the potatoes are cooked and cubed with skins, put them in a large bowl.  Pour olive oil and vinegar over the potatoes and stir.  Add the chopped celery and green onions to this.  Then add in the black pepper, fat free Miracle Whip, and Grey Poupon Dijon mustard.  Blend all of this together stirring gently.  Once blended together, put your red potato salad in a serving bowl.  Sprinkle lightly with a little black pepper and one chopped green onion.  Refrigerate until ready to serve.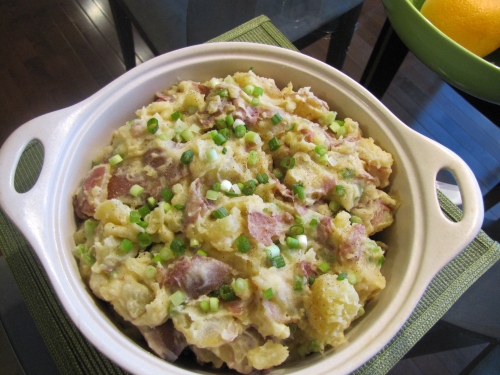 This recipe for potato salad is not only tasty, but a lot healthier than the mayonnaise based potato salad I grew up eating.  It is also healthier than store bought potato salad.  I know both of these may be a favorite of yours, but I truly believe if you give this alternative a try, you will find it to be very tasty and definitely healthier.  If you do decide to give it a try, I hope you like it as much as we do and enjoy!