By Jodee Weiland
Apple picking in the fall is something we love to do! There are so many great ways to use apples!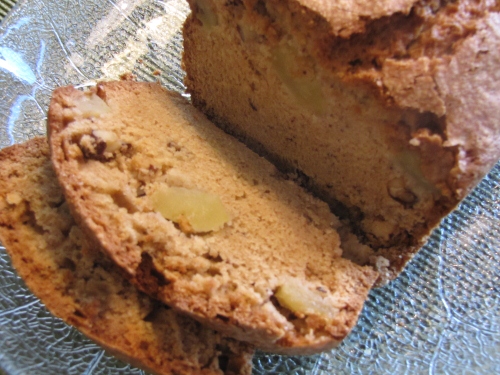 Years ago before I ever had children of my own, I came across what I thought was the best apple bread recipe ever! An elderly woman I knew back then had this recipe, and I loved it once I tried it.  Over the years, I have made adjustments to the recipe here and there for one reason or another, and I think my adapted recipe is even better yet!  For one thing, I added chopped walnuts, but walnuts are always optional.  My family loves this recipe, and once I had children, it became a traditional recipe to make at apple picking time.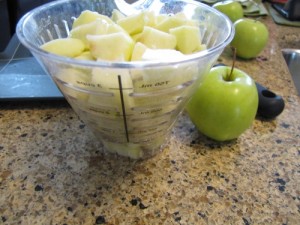 In the fall each year, we would take the kids out to the apple orchards to pick apples.  We would climb the ladders supplied by the orchard owners and pick our own apples, filling one bushel basket at least to purchase and take home.  It was fun picking our apples as a family, and we all looked forward to the recipes we would make with the apples when we got home.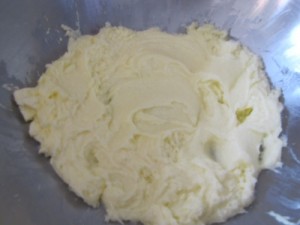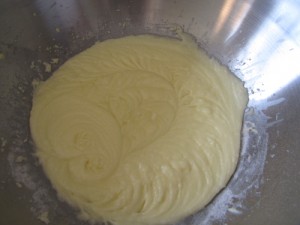 Of course, there was fresh apple pie to be made, but I think that secretly we all looked forward to the apple bread we would make.  We always made a double batch at least because we would wrap the extras in aluminum foil and freeze it for later.  The frozen cakes, thawed and heated later, were as good as when freshly baked.  We just took them out, put them in the microwave long enough to heat them up, and they were ready to eat tasting as fresh as the day they were baked.  My kids loved to eat their slice of apple bread cake with butter melted on it, but with or without, it was always a delicious treat!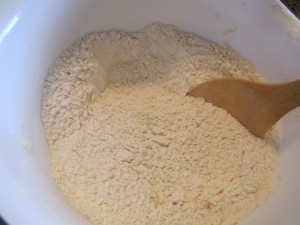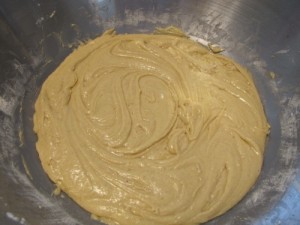 Apple Walnut Bread…For Apple Picking Time or Just Any Time
3 cups sugar
1 and 1/2 cups softened light butter with canola oil
4 eggs beaten
3 teaspoons vanilla
4 and 1/2 cups flour
1 and 1/2 teaspoons salt
1 and 1/2 teaspoons baking soda
1/2 teaspoon cinnamon
1/2 teaspoon nutmeg
3 cups chopped apple (peeled and cored)
3/4 cups chopped walnuts (optional)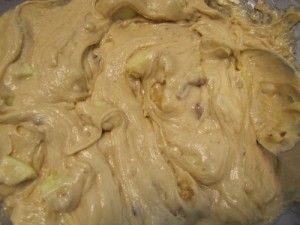 In a large bowl cream together the sugar and softened light butter with canola oil with hand mixer until light and fluffy.  Then add beaten eggs and vanilla to this.  Mix well.  Mix the dry ingredients (flour, salt, baking soda, cinnamon, and nutmeg) together in another bowl.  Add this to the eggs, sugar, light butter, and vanilla mixture.  Now, using a durable spoon, mix in the chopped apples followed by the chopped walnuts.  The batter will be stiff and lumpy, so carefully fold in the apples and walnuts until mixed well.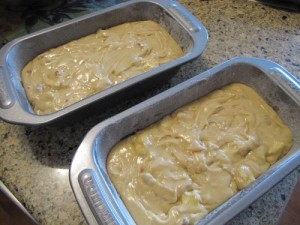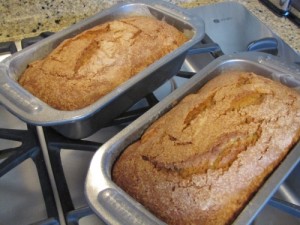 Generously grease and flour two loaf pans.  I use butter spray and flour.  Fill the loaf pans half full or just a bit more.  The cake will rise during baking.  Bake at 350 degrees for 60 to 90 minutes.  The time varies with different  ovens.  Do not over bake.  Use the toothpick test to tell when the apple bread is baked.  Put a toothpick in the center and remove.  The apple bread is done when the toothpick comes out clean.  My apple bread took one hour and 15 minutes.  As soon as they are baked, remove from the oven and cool.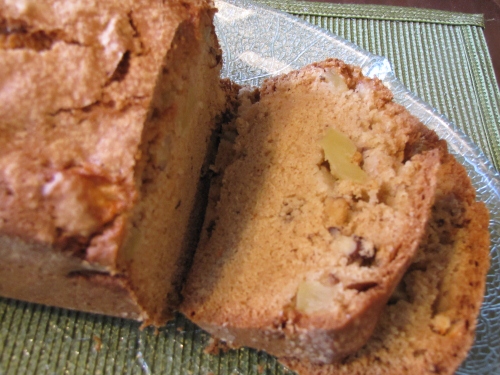 Don't cool it too long because this recipe is out of this world served warm!  My family loved it as is and with butter.  The kids really loved adding the butter, but either way it was great!  This recipe is a definite crowd pleaser.  But the best thing about this recipe is the fact that you can freeze it and pull it out when unexpected guests show up.  Make a pot of fresh brewed coffee, warm up the apple walnut bread in the microwave, and serve.  It is wonderful no matter what.  Add vanilla ice cream to it, and it's like adding it to apple pie, only better.  Try it!  You will love it, and when sharing it with those you love, enjoy!