By Jodee Weiland
When we visited Paris, France, one of the tours we signed up for was a day trip to Giverny, France, and it was wonderful, as you can see from the photos I took while there.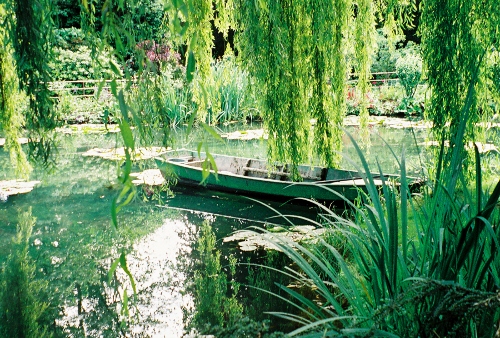 We love the paintings of the Impressionist artist Claude Monet.  Monet's series of paintings of the beautiful Water Lilies is a favorite of ours, as it is for so many people, and it was at Monet's home in the small village of Giverny where he was inspired to create these beautiful paintings and so many more.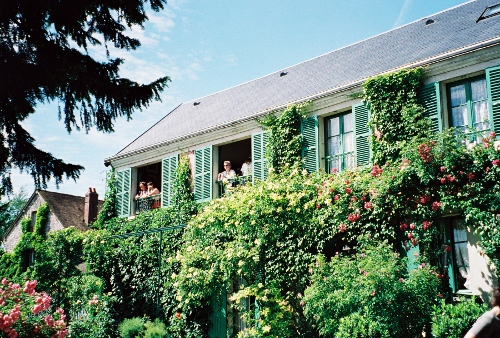 Claude Monet lived in a house in the small village of Giverny from 1883 to 1926.  A passionate gardener as well as an artist, he himself designed his flower and water gardens there, which are absolutely beautiful.  These gardens inspired many of his famous paintings. He lived in this home with his family, and it was here he worked on his art for forty-three years until his death at the age of 86.
Michel Monet, Monet's son and heir, left this property and more to the Academy of Fine Arts Foundation.  It was through their support and others that it was restored to its original state. In 1980 the Claude Monet Foundation owned by the Academy of Fine Arts opened its doors to the public for the first time.  All of this was created for the purpose of maintaining Monet's home and gardens year round through donations, so that visitors can view them daily from April 1st to November 1st each year exactly as they were when Monet lived here.
The colors in Monet's home are as vibrant and rich as the colors he chose for his flower and water gardens.  Today as tourists stand in his home, they can look out the windows and view his colorfully rich gardens just as Monet might have himself.  The vivid colors Monet so admired are evident throughout his flower and water gardens.  The same rich colors seen in the Water Lilies series are evident everywhere, but especially in his Water Garden.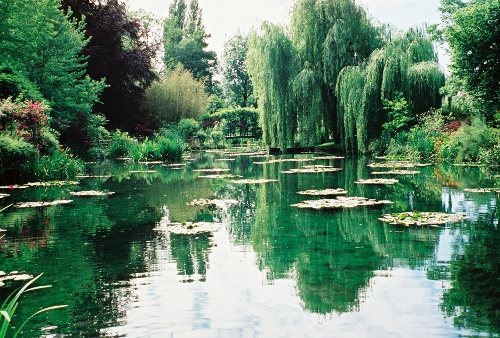 Standing on the green bridge in the Water Garden and looking out at the water lilies amidst various oriental plants and weeping willows is like stepping into one of Monet's paintings. Just knowing you are walking where he walked and standing where he stood as he looked out on this beautiful view enriches the visual experience you have every time you view one of his paintings.  The memory of the reality only serves to enhance the enjoyment of viewing his paintings once you've visited his home in Giverny.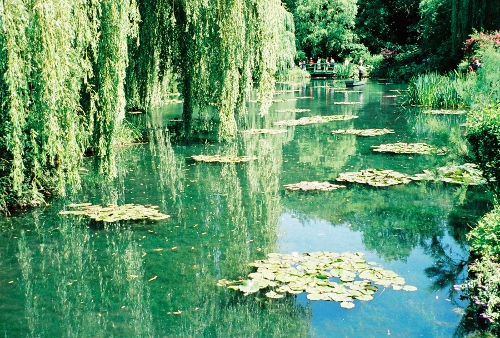 When in Paris, France, I would like to recommend to any of you that you take a day tour to Giverny, France, to visit the home and gardens of Claude Monet, especially if you love his Water Lilies series.  It is definitely time well spent and forever enriches your personal enjoyment when viewing any paintings from this series and others as well.  As you can see, even the photos I was able to take are beautiful, so imagine what it would be like to actually be there and see it all in person. I hope you have the opportunity to visit Giverny, France, sometime in the future if this trip happens to be on your wish list.  If you do visit, enjoy!