By Jodee Weiland
When I was a little girl, I watched my mother make Italian Braciole in our kitchen.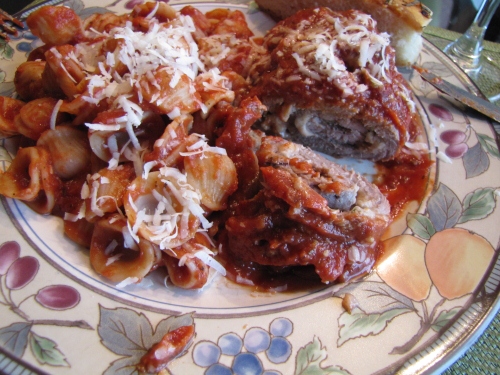 She would take the thinly sliced beef, lay it out and then spread a mixture across it made of grated Italian cheese, seasonings, and Italian bread crumbs. She would then roll the beef up with the mixture inside just like a jelly roll. She used toothpicks or sometimes string to hold them together while she cooked them in a wonderful Italian tomato sauce. The smells in the kitchen while they were cooking invited everyone in the house to imagine what a delicious dinner we would all share that evening. And without fail, dinner was absolutely delicious and appreciated by all.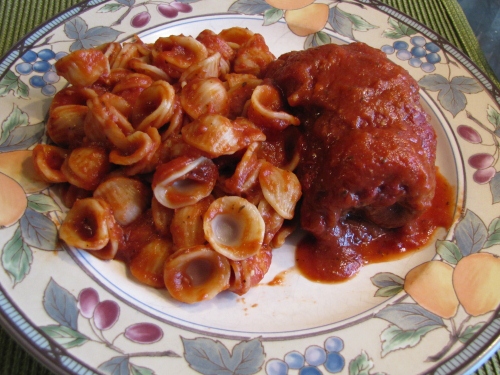 When I grew up I decided to make some minor adaptations to this dish that I felt would only improve the taste and enrich the eater's experience overall.  In my family, changing recipes here and there was encouraged, and even became a sort of challenge between me and my dad, who was also a fabulous cook. My adaptation was really very simple. I chose to leave out the Italian breadcrumbs. To me, breadcrumbs were for the most part a filler that could be substituted in this recipe. Instead, I used more cheese giving my Italian Braciole a rich flavor from the imported Parmesan Reggiano cheese that I use.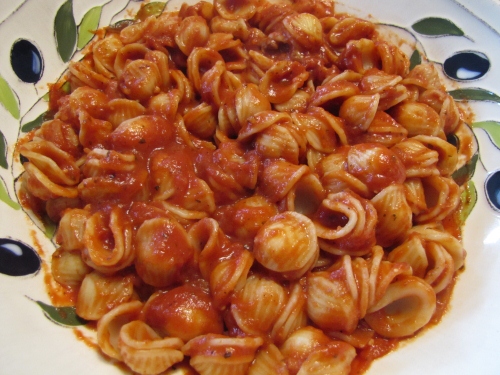 Some people use imported Pecorino Romano, another good choice, but a slightly different taste than imported Parmesan Reggiano cheese. Try both and then decide for yourself which you prefer. Whichever you choose, buying a good quality cheese is key to this recipe's taste. A number of other things can and have been added to Italian Braciole recipes, such as provolone, prosciutto, spinach, and more. In Italian Braciole you can use many things, but sometimes the simplest way is the best. So I am going to share with you my recipe for Italian Braciole, simple but definitely a family favorite in my home.
Italian Braciole…Italian Beef Rolls with Imported Parmesan Reggiano Cheese
2 pounds thinly sliced lean top round steak or flank steak
1 to 2 teaspoons extra virgin olive oil
For tomato sauce:
28 to 29 ounce can of tomato puree
6 ounce can of tomato paste
2 garlic cloves chopped
1 tablespoon minced onion
1 teaspoon basil or use 1 tablespoon fresh basil cut up
1/2 teaspoon dried or ground oregano
1/4 to 1/2 teaspoon ground red cayenne pepper (optional for those who want spicy)
1 tablespoon sugar (some people prefer to use 2 carrots finely shredded or chopped for sweetness)
Water about 1/2 cup or to desired consistency (1/2 cup red wine is optional)
For beef roll filling:
1 cup grated imported Parmesan Reggiano cheese
3/4 teaspoons ground black pepper
2 teaspoons chopped garlic
1 tablespoon minced onion
1 teaspoon basil or use 1 tablespoon fresh basil cut up
Round toothpicks
Pasta of your choice (12 ounce packages work well if you like a thick sauce)
Freshly grated Parmesan Reggiano cheese
Take olive oil and spread over rectangular deep baking dish.
In a medium size bowl, mix together the tomato puree, the tomato paste, garlic, minced onion, basil, oregano, ground red pepper (optional), and water as needed, usually about I/2 cup of water, depending on desired consistency.  Add in the sugar if you do not use carrots. Set aside.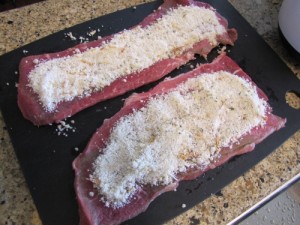 In a small bowl, mix together, grated imported Parmesan Reggiano cheese, ground black pepper, minced onion, chopped garlic, and parsley.  Set aside.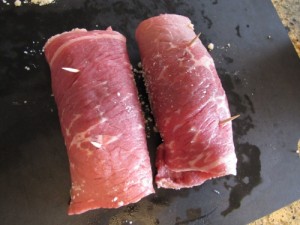 Lay out the thinly sliced strips of beef.  Spoon onto the beef a good layer of the cheese mixture. Once done, begin rolling gently starting from the narrowest end.  Once rolled, like a jelly roll, put two toothpicks in each roll to hold together the beef roll.  Place rolls parallel to each other in the olive oil prepared baking dish, one next to the other. When all rolls are done, take any leftover cheese mixture and sprinkle over the rolls. Then pour tomato sauce mixture over the top of the rolls covering all of them and filling the deep dish with the remaining tomato sauce mixture. Top it off with some freshly grated imported Parmesan Reggiano cheese.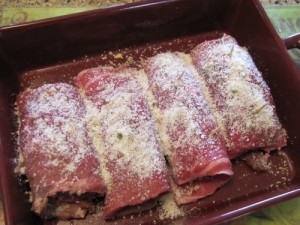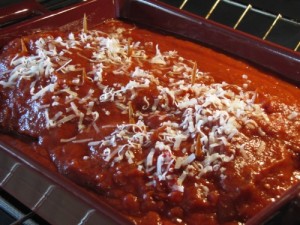 Bake uncovered for one hour at 350 degrees in the oven.  I have a Teflon sheet on the rack below my baking dish for any tomato sauce splatter while cooking. Cook pasta al dente during the last 15 to 20 minutes of cooking time for the Italian Braciole.  Timed right, the pasta should be ready to drain just prior to taking out the Italian Braciole. Put the beef rolls in a serving dish and mix the remaining sauce into the cooked pasta.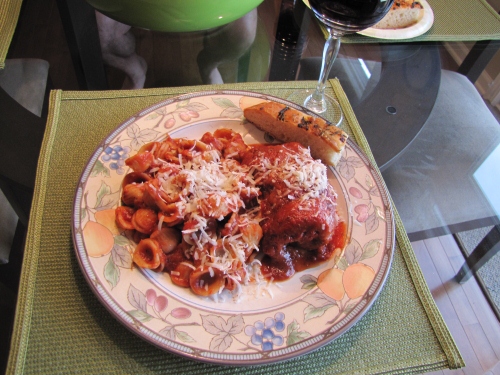 When the Italian Braciole is plated, serve it with the pasta and Braciole sauce.  Top it off with some freshly grated imported Parmesan Reggiano cheese to taste.  Add a loaf of good bread or focaccia and a side salad for a truly delicious meal.  We enjoy having a nice glass of Toscana or Chianti wine with our meal.  However, you decide to serve this dish, you will never be disappointed in the meal itself.  You can have the Italian Braciole with a vegetable, like Italian green beans or spinach cooked in garlic and olive oil, or the pasta of your choice.  You decide.  Hopefully, you will be able to have this wonderful dish soon and see for yourself why it is a family favorite in my house.  Enjoy!