By Jodee Weiland
One of the easiest dishes to make in any Italian household is pasta with Italian marinara sauce.
When I was growing up, mom and dad would make Italian marinara sauce any time they needed to cook up a delicious meal in a hurry, whether for unexpected guests or just a fast week day meal. Both my parents worked once I was in school, and sometimes things got hectic around our house, so mom would put together pasta with Italian marinara sauce when needed.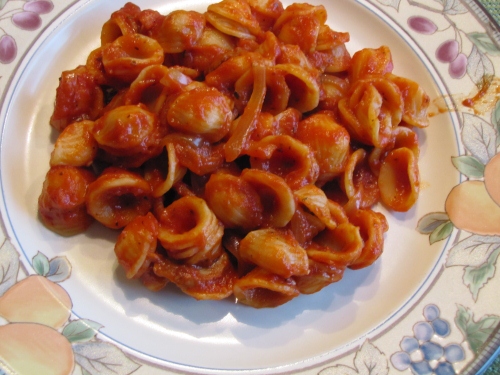 If I went to a restaurant today for the same meal, with the salad she made and Italian bread, I would pay good money. But whatever they would charge would not make it good enough to replace the memories I having of eating this simple meal with my family.  At an Italian family meal, everyone talks and laughs together while savoring the food set before them.  Enjoying the people around you is as important as savoring the food.  Sometimes it got loud with several people talking at once, but I would never trade those memories for anything.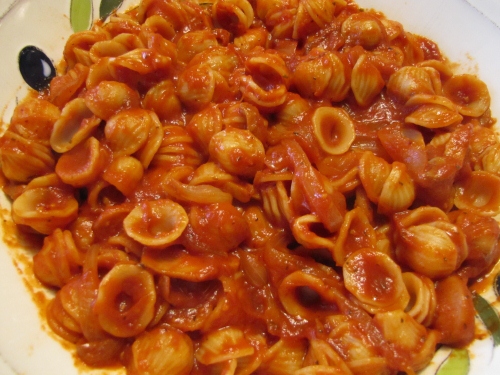 Food and sharing meals is a large part of the Italian culture. Growing up, I watched my parents set down a table of food whenever we sat down together, whether for a meal, the arrival of unexpected guests, or just when we were sitting and discussing something as a family. Many extended family members would stop by often, knowing fun and laughter would accompany the delicious food my parents would bring out for all to share. Mom and dad were loved by all of our friends, neighbors, uncles, aunts, and cousins.  Every one of them enjoyed my mom's delicious cooking and my dad's great sense of humor. This recipe is more than just a meal to me.  It's a memory of my family sitting together and sharing food, conversation, and laughter. When I share it with friends and family now, it makes new memories possible and old memories fresh in my mind.
Italian Marinara with Pasta…Easy to Make and Delicious to Eat
2 to 3 tablespoons extra virgin olive oil
1 medium to large onion sliced or chopped
2 cloves garlic chopped
1 to 2 cups fresh mushrooms slice or one 4 ounce can sliced mushrooms
1 teaspoon basil or use 1 tablespoon fresh basil cut up
1/2 teaspoon dried or ground oregano
1/2 teaspoon ground red pepper (optional)
1 tablespoon sugar (some people prefer to use 2 carrots finely shredded or chopped for sweetness)
28 ounce can crushed tomatoes or tomato puree
6 ounce can tomato paste
Water (1/2 cup red wine is optional)
Freshly grated imported Parmesan Reggiano cheese
Pasta of your choice
Sauté onions, garlic, and mushrooms in olive oil.  Add the seasonings to this and stir together.  Then add tomato puree or crushed tomatoes, tomato paste, and water as needed, usually about I/2 to 3/4 cup of water, depending on desired consistency.  Add in the sugar if you do not use carrots.  If using carrots, sauté the carrots with the onions, garlic, and mushrooms.  Let the sauce begin to bubble and then cover the pot lowering the heat to simmer for 45 to 60 minutes or longer, stirring every so often.
Be ready to boil the pasta of your choice once the sauce is ready or nearly ready.  By the way, if you lay a wooden spoon across the top of your pot of boiling water for the pasta, so it will not boil over. I was surprised myself, but this works well.  When the pasta is ready, drain your pasta and add you sauce, gently mix the two together.  Then serve with freshly grated imported Parmesan Reggiano cheese.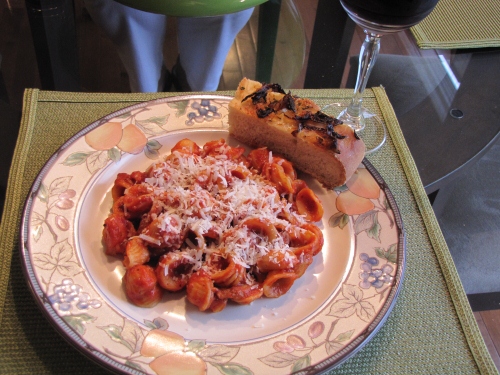 Looking for an easy meal to make on a on a busy week day or on a lazy Sunday afternoon? This meal is delicious and makes it easy to bring a little bit Italy into your home.  Serve it with a tossed salad and some hearty bread or focaccia of your choice.  A Chianti, a Sangiovese, or a Toscana all compliment the flavors of this meal. If you do decide to make this recipe, be sure to add laughter, conversation, and good family fun when you bring it to the table and then, make a memory!  Enjoy!