By Jodee Weiland
Growing up in an Italian family, the idea of having olive oil, garlic, and pasta was a natural. My father and mother always liked hot peppers, so they always added crushed red pepper to theirs. This dish, linguine with olive oil, was referred to as pasta with Aglio E Olio sauce in our home and was one of my dad's favorites.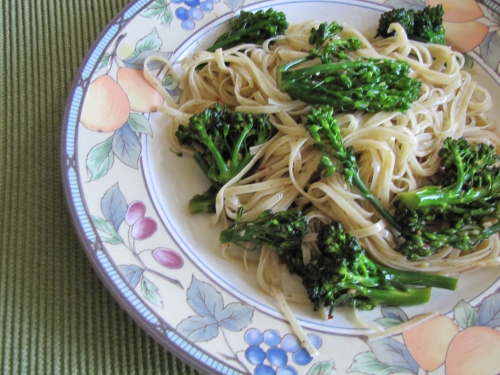 He was very particular about how it was done. The extra virgin olive oil had to be just enough to cover the pasta, but not so much that the pasta sat in a pool of oil nor could it sit in a pool of water and oil, meaning poorly drained pasta.  When I was younger, I was not interested in this pasta dish at all, but as a young adult I came to appreciate this dish just like my father did, especially if done with a very good extra virgin olive oil.  Believe me when I tell you, it does make a difference.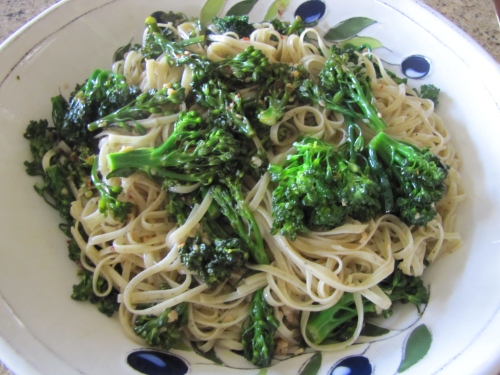 The best part about making this dish is that it is easy and fast!  So as I grew older, I began adding vegetables to this dish to make it healthier and even more delicious.  Once you had the basics down, taking it to the next level was fairly easy and made sense. If you need a quick easy meal, why not make it as nutritious as possible with just a little more effort and time?  The answer to that is easy.  Just do it and enjoy the results!
Lemon Pepper Linguini with Olive Oil, Garlic, and Broccoli Rabe…With a Touch of Pepper
12 ounce package of lemon pepper linguini or pasta of your choice
1 cup extra virgin olive oil or more to taste
2 tablespoons chopped garlic (more or less depending on preference)
1 teaspoon crushed red pepper (optional)
2 bunches broccoli rabe (rapini) about 16 stalks more or less cleaned and trimmed to taste
Freshly grated Parmesan Reggiano cheese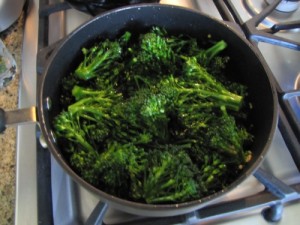 Prepare pasta choice according to the package directions. Sauté chopped garlic on low heat in olive oil.  Add crushed red pepper (optional).  Add broccoli rabe pieces and cook over medium heat for about 10 minutes.  Cook broccoli rabe to taste, but preferably still firm.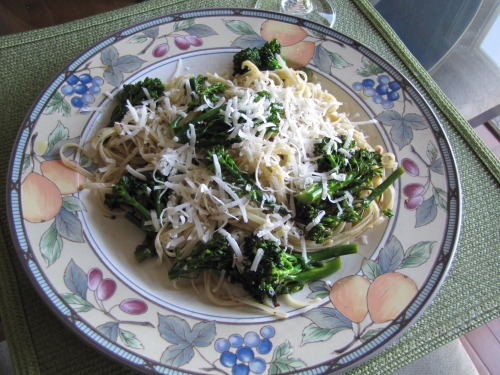 When pasta is al dente, drain and put in serving bowl.  Then pour olive oil, garlic, red pepper, and broccoli rabe over the pasta.  Gently toss together and then serve.  Add freshly grated Parmesan Reggiano cheese for those who want it.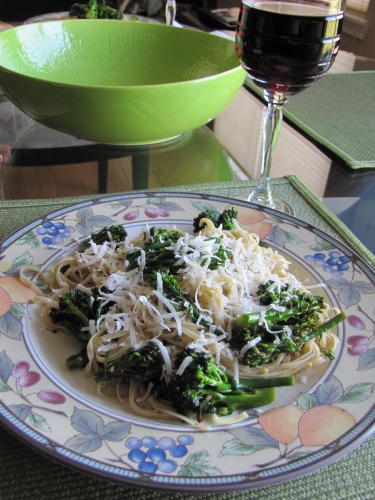 Lemon Pepper Linguini with Olive Oil, Garlic, and Broccoli Rabe with a touch of crushed red pepper is wonderful.  Serve it with a nice Chianti, a mixed green salad, and some focaccia bread. Whenever we have this dish, it brings back wonderful memories of my parents, but especially my father, who loved Aglio E Olio.  At a restaurant, he would very specifically tell them how he wanted it done, and believe me when I say, the quality of their Italian cooking was heavily weighed on their ability to meet his requirements. This dish, with the broccoli rabe added in, is easy and quick to do, but it's also delicious.  If you decide to try it, I hope you enjoy it as much as we have and make some memories of your own.  Enjoy!