By Jodee Weiland
Scottsdale, Arizona, has taken the simple experience of shopping and turned it into an art. Downtown Scottsdale has a unique approach to this experience, one that changes as you travel through the various downtown areas.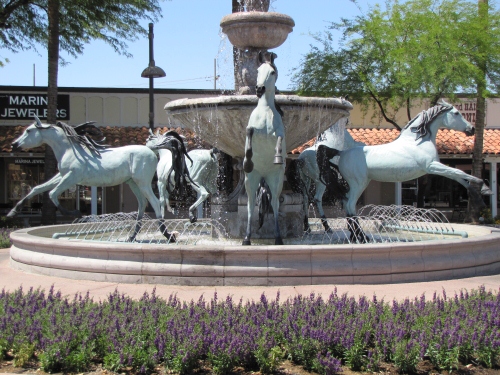 Driving into the downtown area on Camelback Road, you will see the Fashion Square with stores like Nordstrom's and Crate and Barrel among others, followed by the Scottsdale Waterfront Area with restaurants like Wildfish that feature a dramatic outdoor seating area for diners who prefer to see and be seen.  Turning on Scottsdale Road, you pass the Entertainment District on one side of the road and moving farther along, you will come to the 5th Avenue District on the right.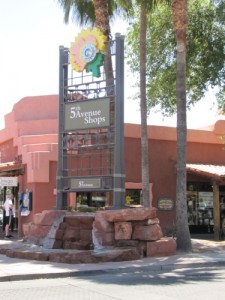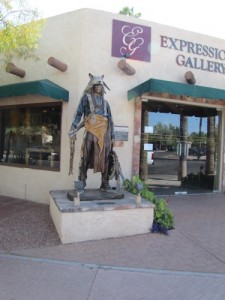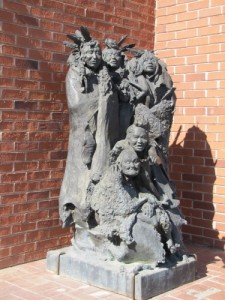 The 5th Avenue District is an area adorned with fabulous outdoor sculptures to view as you move down 5th Avenue to the galleries featuring varying styles of art. All the different outdoor pieces are placed up and down 5th Avenue as if they were exhibits in an art gallery, making it impossible to simply go from one place to another without stopping to take in the art work exhibited outdoors. The overall effect is distinctively surprising and aesthetically pleasing for those visiting the area.  Some unique places to visit in the beautiful 5th Avenue District are the On the Edge Gallery, which features over forty local artists ranging from traditional to contemporary in a wide variety of mediums and styles, and the Zemado Unique Creations, Scottsdale's newest boutique featuring one of a kind hand crafted southwestern styled purses and accessories. The 5th Avenue District is also home to the Gilbert Ortega Museum and Galleries, nationally recognized since 1950 as an expert in Native American art and jewelry. Two more Gilbert Ortega Galleries are found in the Old Town area.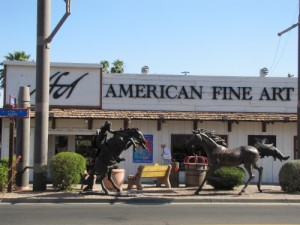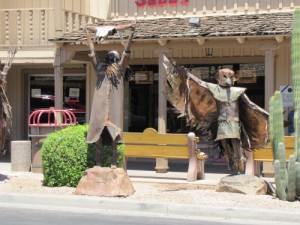 Moving down Scottsdale Road, on your left you will come to Old Town Scottsdale on Main Street, where you will find places like the Old Town Creamery, the Old Town Candy and Toys, the Old Town Tavern, and the Rusty Spur Saloon, plus so much more.  While there, visit the Grey Wolf Native American Gallery, where for over twenty-five years visitors have found Native American jewelry, arts, and crafts. The various shops of Old Town are filled with a wide variety of items from miniature animal sculptures to turquoise and silver jewelry. Any visitor could easily find a beautiful souvenir reminiscent of the old southwest and the Native American culture so prevalent in this area. Moving still farther down Main Street, there is a Historical Museum to visit near the Civic Center Mall. Then moving back to and across Scottsdale Road on Main Street, you can walk through the Arts District, where you can see more than fifty public art displays.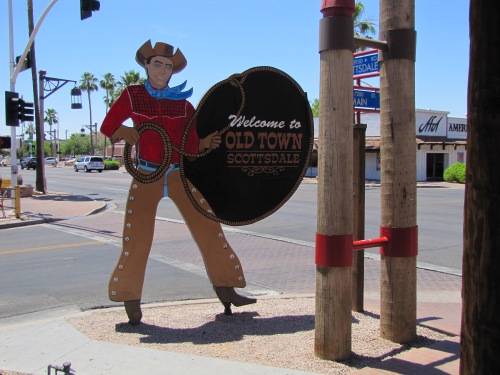 The shopping opportunities and variety in Downtown Scottsdale goes from one end of the spectrum to the other and is entertaining as well. Whether you walk through in the daytime or the evenings, there is plenty to see for everyone. There is a trolley car service you can use to move through the areas if you choose to do so. You will definitely need to take more than one day if you want to see it all, unless you are only interested in one or two specific areas. There are plenty of eating options throughout all the areas, so plan on lunch or dinner or both.  Whatever you decide, your visit will be filled with the enjoyment of viewing some beautiful art work and shopping for unique items when you visit this amazing downtown area. As I said before, in Scottsdale, Arizona, shopping is an art!  Enjoy!