By Jodee Weiland
Over the years one of the many ways I express my love for my family is through my cooking, especially when I make my Bolognese Sauce Made with Sirloin…A Family Favorite in My Home!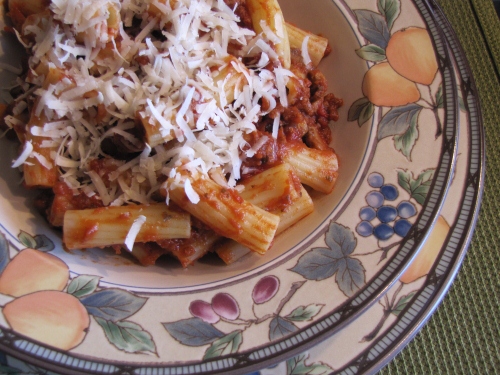 Raised by a health conscious Italian mother, like her I want my family to live long and enjoy healthy lives.  I want their lives filled with fun, laughter, happiness, and love.  But I believe eating healthy does not mean giving up great tasting and delicious meals.  In fact, quite the opposite is true.  My belief has always been that I can cook delicious meals for my family that are both healthy and satisfying, while adding to their fun, laughter, happiness, and love when we share that meal together.
For that reason, I began making my Bolognese sauce with lean ground sirloin years ago.  My mother used lean ground round for her meatballs and I followed her lead, but later I chose to go leaner still by using lean ground sirloin when I made both my meatballs and my Bolognese sauce, a choice I have never regretted.  When my mom and dad ate Bolognese in my home, they both loved it, so I knew I made the right choice.  Knowing my sauce is more heart healthy makes my choice a winner for my family.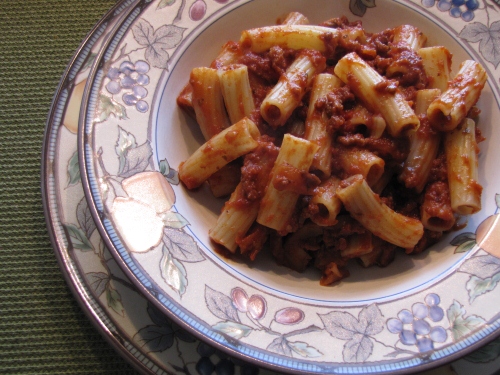 Bolognese Sauce Made with Sirloin
2 to 3 tablespoons extra virgin olive oil
1 medium to large onion sliced or chopped
2 cloves garlic chopped
1 to 2 cups fresh mushrooms slice or one 4 ounce can sliced mushrooms
1 pound lean ground sirloin
1 teaspoon basil or use 1 tablespoon fresh basil cut up
1/2 teaspoon dried or ground oregano
1/2 teaspoon ground red pepper (optional)
1 tablespoon sugar (some people prefer to use 2 carrots finely shredded and chopped for sweetness)
28 ounce can crushed tomatoes or tomato puree
6 ounce can tomato paste
Water (1/2 cup red wine is optional)
Freshly grated imported Parmesan Reggiano cheese
Pasta of your choice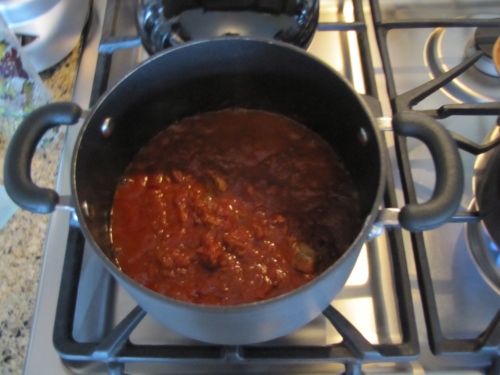 Sauté onions, garlic, and mushrooms in olive oil.  Brown slightly breaking apart the ground sirloin, and then add the meat to the onions, garlic, and mushrooms.  Add the seasonings to this and stir together.  Then add tomato puree or crushed tomatoes, tomato paste, and water as needed, usually about I/2 cup of water, depending on desired consistency.  Add in the sugar if you do not use carrots.  If using carrots, sauté the carrots with the onions, garlic, and mushrooms.  Let the sauce begin to bubble and then cover the pot lowering the heat to simmer for one hour or longer, stirring every so often.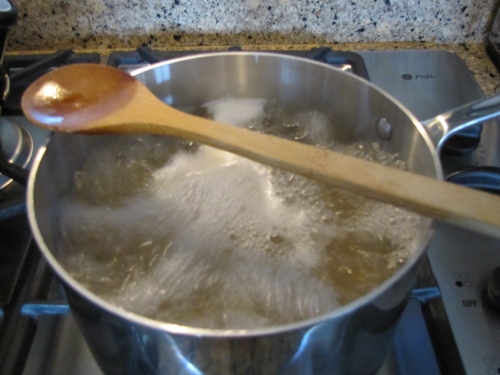 Be ready to boil the pasta of your choice once the sauce is ready or nearly ready.  By the way, if you lay a wooden spoon across the top of your pot of boiling water for the pasta, so it will not boil over.  I was surprised myself, but this works well.  When the pasta is ready, drain your pasta and add you sauce, gently mix the two together.  Then serve with freshly grated imported Parmesan Reggiano cheese.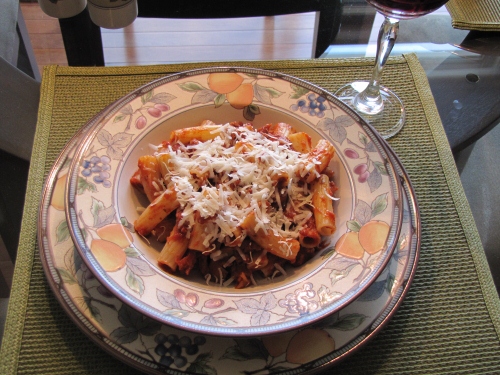 Pasta with Bolognese sauce is a wonderful meal to share with your family.  At our house, we share this meal with a crusty loaf of bread and a glass of good Chianti.  Growing up, we always added a fresh salad to this meal as well.  Whether you decide on pasta with bread and salad or just pasta, you won't be disappointed.  One thing for sure, this delicious meal always leaves everyone feeling satisfied and usually is accompanied by great conversations, shared laughter, and feelings of love.  Bringing a family together for a great meal is so important in making shared memories.  I hope you have an opportunity to try this meal and make some memories of good times with your own families!  Enjoy!