By Jodee Weiland
Balboa Park in San Diego is a must see for anyone visiting!  What a great place to go to while in San Diego, mainly because it is not just a park.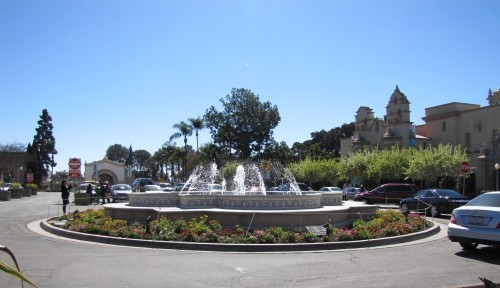 Balboa Park has museums and cultural attractions, theaters and performing art venues, gardens, the San Diego Zoo, restaurants, shops, and so much more making it a place with recreational opportunities of all kinds.  The fact that there is so much all in one area reminded me of the Washington D.C. mall, where one can visit many different museums in one area, but it was different in some ways because it really was more of a park like setting with outdoor art shows and an open air pavilion.  For those who want less walking, Balboa Park has a tram as well that has various stops throughout the park, including a stop at the Visitors Center.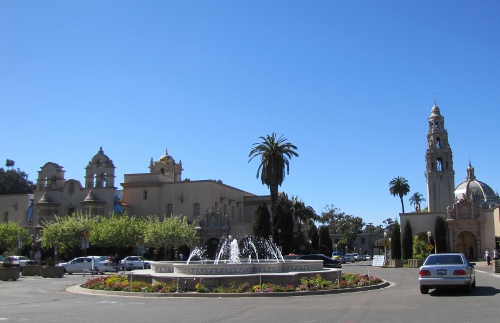 Before arriving at the park, I expected it to be an interesting part of our trip, but I never imagined it to be such an all-encompassing area of cultural enrichment.  I was pleasantly surprised.  The brochures had referenced all the attractions, but I visualized an area where we would stop, park, and visit different venues as we went.  I never pictured parking in a beautiful park like setting and walking to and from one museum or attraction to another, while enjoying the sunny weather outdoors, all in one area.  It was easier to go from one place to another than I expected, and we were entertained by many outdoor venues as we went.
With all the possible venues available to us at the time of our visit, with both permanent and temporary venues, we saw a lot on the day we went there.  We visited the San Diego Museum of Art, the San Diego Air and Space Museum, The House of Pacific Relations Cottages representing 31 nations, an outdoor art show, and we listened to a vocalist on stage at the open air pavilion.  Although there was much more to see and do, we quickly realized that we would need more than one visit to do it all.  That is just one of the many reasons why we are looking forward to returning to beautiful San Diego County one day soon.
There is so much to see and do in San Diego County that one visit could never accomplish seeing it all, but after visiting there this past February, my husband and I look forward to returning soon.  We had a wonderful time in San Diego and found the sunny skies, the pleasant temperatures, the beautiful coastlines, the great seafood, and the friendly people to be enticement enough to find time to return in the near future.  Our memories of this last trip are wonderful, and we can't wait to make new memories down the road when we are able to go back to beautiful San Diego.   If you plan on visiting San Diego, Balboa Park should be on your list of places to see, and when you go…enjoy!