By Jodee Weiland
On our visit to San Diego County in southern California this past February, we discovered the land of sunshine and mild climates, making this trip a wonderful experience.  While there, we did what most tourists do; we visited the San Diego Harbor.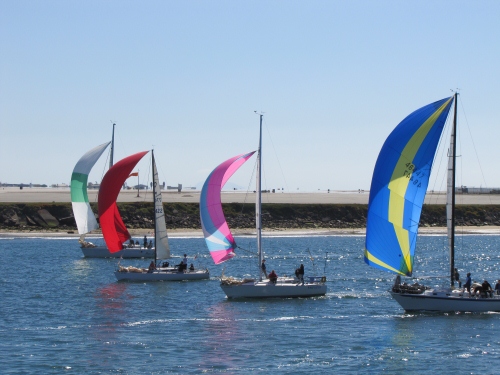 It was a wonderful way to spend the day, starting with our tour of the harbor aboard the Hornblower Harbor Cruise.  The tour we chose was a leisurely cruise with an informative narration while taking in all the beautiful sights surrounding the San Diego Harbor on a sunny afternoon.  We learned a lot about the harbor and its history, as we cruised past Harbor Island, Shelter Island, sea lions, a submarine base, the North Island Naval Air Station, Seaport Village, the Maritime Museum, USS Midway Museum, and so much more.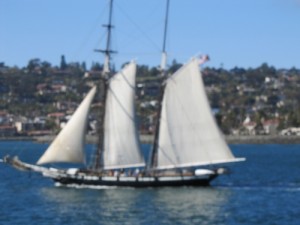 On board the cruise, the Captain and trained museum naturalists were the narrators for our brief adventure at sea.  While cruising, passengers could choose indoor viewing that is climate controlled with large windows or outside on the large open-air sun deck.  We chose to sit outside on the sun deck, and the views were magnificent.  It was a beautiful sunny day with pleasant mild temperatures near seventy degrees, a perfect day for a harbor cruise.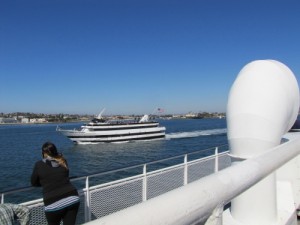 Once we returned to the harbor, we walked by the USS Midway Museum.  On the way around the museum, we enjoyed the various war time sculptures along the walkway, especially the twenty-five foot tall painted bronze sculpture of a sailor kissing a nurse called the "Unconditional Surrender."  This statue is based on the iconic V-J Day kiss photo taken of a sailor and a nurse kissing in Times Square in celebration of the end of the Second World War, a photo easily recognized by most people today.  It was truly impressive, along with several other sculptures as well.  We continued on past the sculptures to Seaport Village where we had a wonderful seafood lunch.  The food was delicious, and the beautiful view of the harbor as we ate made our meal even more enjoyable.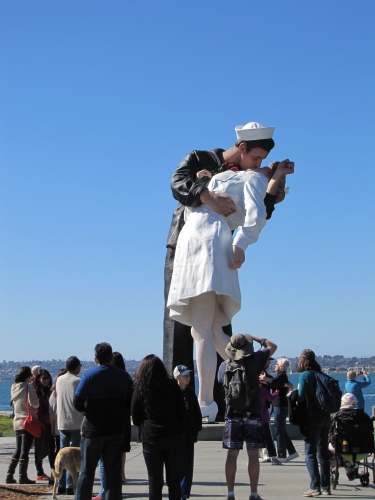 Once we finished eating, we spent more time walking along the harbor water front continuing to enjoy the view.  It was indeed fantastic, not to mention the beautiful weather we were enjoying while visiting San Diego.  To say we found one more reason that day to love San Diego is an understatement.  We returned to the San Diego Harbor a few days later and enjoyed still more places on our list not far from the waterfront.  It was a wonderful trip, and if you decide to visit San Diego, be sure to spend time at the harbor.  Hornblower has a variety of cruises, including whale watching tours.  Whatever you decide, you won't be disappointed if you visit…so when you do visit…enjoy!