By Jodee Weiland
On our visit to San Diego this past February, we visited San Diego's Old Town, described as the "Birthplace of California" in the tourist brochures.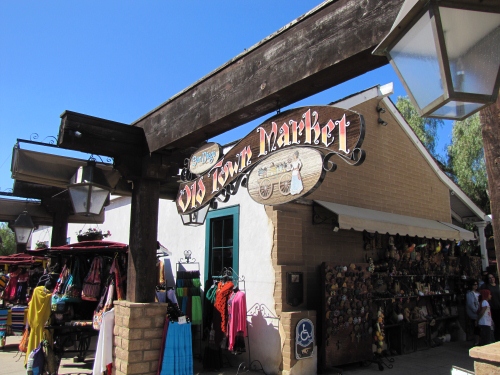 Summarily, the story told in these brochures is that the area called Old Town was first discovered by an explorer named Juan Rodriguez Cabrillo.  Others followed, including Sebastian Vizcaino who named it San Diego de Alcala while mapping the coastline in 1602.  Then the Russian explorers came in the late 1700's and eventually, the King of Spain sent Captain Gaspar de Portola and Father Junipero Sera with the purpose of a land expedition.  The King did this in the hopes of claiming this land thought to be filled with gold and thriving landscapes.  The Captain chose Presido Hill for the establishment of a military post, and Father Junipero Sera took on the task of building the first twenty-one missions in the area…the cornerstone of colonization in California.  After years of continuous growth, in 1846 the first American flag was raised in the plaza of Old Town by a U.S. Navy Lieutenant and a Marine.  Today visitors can take a look back into this historic era by walking through the Old Town area and the Plaza de las Armas.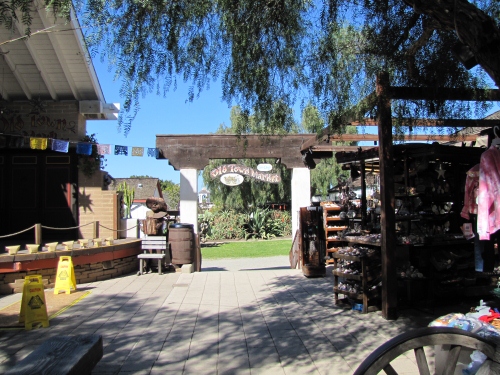 We thoroughly enjoyed walking through the Plaza de las Armas, an area that once served as early California's community center for fiestas, politics, and day to day life in general.  Moving through Old Town, we caught a glimpse of life in the 1800's as we had the opportunity to meet and talk to the many different merchants, some who dressed in the attire from that earlier period.  The Old Town San Diego historic area has many things to see, to do, and to hold the interest of tourists when visiting.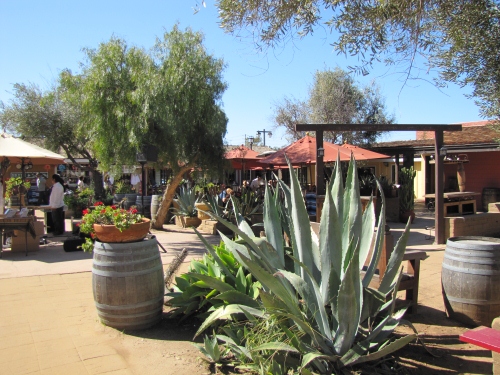 During our visit there, we were able to explore the Specialty Shops of the Old Town Market and more.  Although we did not see them all, there are art galleries, churches, historical homes, museums, a variety of shops, and many dining options.  We were able to visit Immaculate Conception Catholic Church, which was established in 1865.  It was the first church in California built outside the mission system.  Every visitor will find something to enjoy.  There are various tours available, including the Old Town Trolley City Tours that travel from Old Town San Diego State Historic Park to the San Diego harbor continuing on with more stops at Seaport Village, Gaslamp Quarter, Balboa Park, and Little Italy to name a few.  There are eleven stops in all, and you can either stay on for the full two hour tour or get on and off all day.  It's your choice.
We enjoyed visiting Old Town San Diego because it was interesting to visit an area that was so important historically to the development of this beautiful city.  San Diego, with its sunny skies and mild temperatures year round, is a great place to visit no matter what, but going there and not seeing Old Town would be unfortunate.  Experiencing the history of a city through an area such as this is an opportunity to better understand not only the city but the people who live there and their cultural roots.  Old Town San Diego was a great experience for us, and we're glad we took the time to do a little exploring of our own while there.  If you visit San Diego, add this to your list of places to visit…make a memory and enjoy!