By Jodee Weiland
One of my favorite recipes when I'm looking for something sweet, but not overly sweet, is homemade banana walnut loaf with a touch of cinnamon and nutmeg.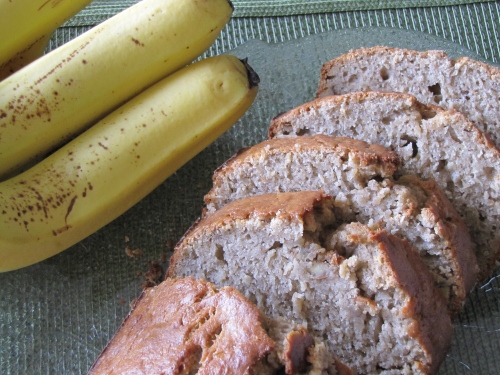 Over the years, I have tried a lot of different recipes for banana walnut loaf, but always felt there was something missing.  When buying them from a bakery, I found quite a few I enjoyed, but the recipes I tried at home always fell short until I decided to take everything I knew about the basics for the recipe and then add on my ideas for improving it.  No journey worth taking comes without some wrong turns here and there.  So through trial and error and some adaptations to suit my ideas of what tasted good, I finally found just what I needed to make my recipe for banana walnut loaf with just a touch of cinnamon and nutmeg.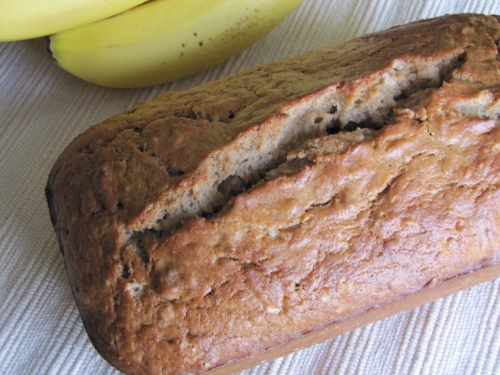 Don't misunderstand.  When cooking, I am just a woman who has spent many years experimenting in my kitchen while looking for ways to make meals more delicious and enjoyable for those I love.  I take pride in feeding my family well with healthy recipes, while making the experience more enjoyable for them.  Being Italian, I watched my parents cook delicious meals for us, rarely using a recipe to follow.  My father, as well as my mother, enjoyed cooking and seeing the satisfied looks on our faces as we relished the wonderful meals they cooked and created, sometimes right there on the spot.  Some recipes were used, but these were family recipes for cookies, sauces, and so much more.  Others were created by them, teaching us to be creative with food as well.  For the most part, we learned their recipes as my parents had with their parents, by watching them cook for us.  So when I needed a recipe for banana walnut loaf to satisfy my tastes, I began a creative journey in my kitchen that took me to my banana walnut loaf with just a touch of cinnamon and nutmeg.
Jodee's Banana Walnut Loaf…With Just a Touch of Cinnamon and Nutmeg
1/3 cup softened unsalted butter
1 cup sugar
3 very ripe bananas mashed
1 teaspoon vanilla
2 eggs beaten
1/4 cup fat free skim milk
1  1/2 cups all-purpose flour
1 teaspoon baking powder
1/4 teaspoon salt
1 teaspoon cinnamon
1 teaspoon nutmeg
1/2 cup chopped walnuts
Preheat oven to 350 degrees.  Lightly grease (butter or butter spray) and flour the loaf pan.
Blend together briefly the butter and sugar using an electric mixer with the paddle attachment at a medium speed.  Add in the bananas, vanilla, and eggs, followed by the milk, just until combined.
In a separate bowl, stir together the flour, baking powder, salt, cinnamon, and nutmeg.  Add this to the banana mixture, gently beating together until combined, adding in the walnuts last.  The batter will be slightly lumpy.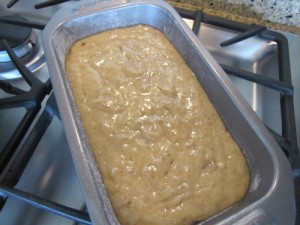 Pour the batter into the loaf pan, filling it about two-thirds full.  Bake at 350 degrees for 55 to 65 minutes watching closely.  When the top of the loaf darkens to a golden brown and the sides of the loaf pull away from the pan, use a wooden toothpick to check and see if the loaf is done.  Inserted in the center of the loaf, the toothpick should pull away clean if done.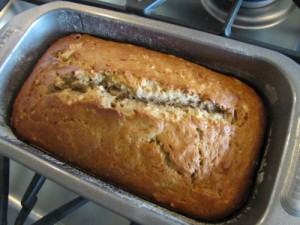 Once done, let the loaf cool in the pan for 5 to 10 minutes.  Then turn the loaf out of the pan and on to the cooling rack to finish cooling down.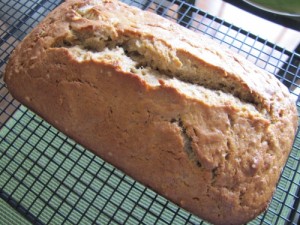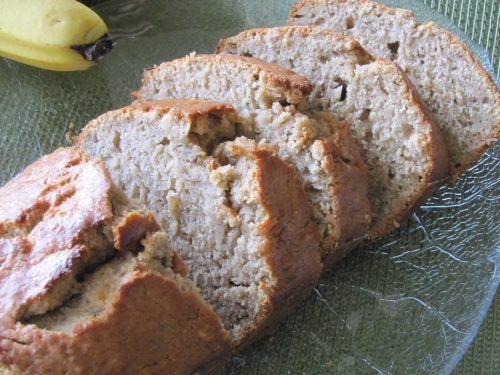 This recipe for banana walnut loaf with a touch of cinnamon and nutmeg will not fail to please your family as much as it has mine.  It is delicious and nothing beats homemade.  Half the fun is when you have younger children to help you make your recipe.  Baking for my children when they were young was worth seeing the smiles on their faces when they enjoyed a special treat made by me.  The happy memories of these moments mean everything to me.  The same is true when you have the opportunity to bake for grandchildren, extended family, or friends.  My husband and I love this recipe!  I hope you will, too.  Enjoy!