By Jodee Weiland
In the last two weeks of February this year, my husband, Rick, and I traveled to the County of San Diego.  While there, one of the places I wanted to visit was the beautiful coastal town called La Jolla.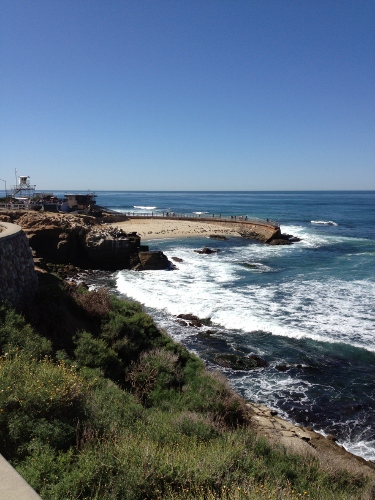 I had been told by family and friends alike that it was an absolute must on my places to see while visiting San Diego County.  I was told it was one of the most beautiful coastal views in southern California, and although I have not seen the entire coastline of southern California yet, I have to agree that the La Jolla coastline would be hard to beat.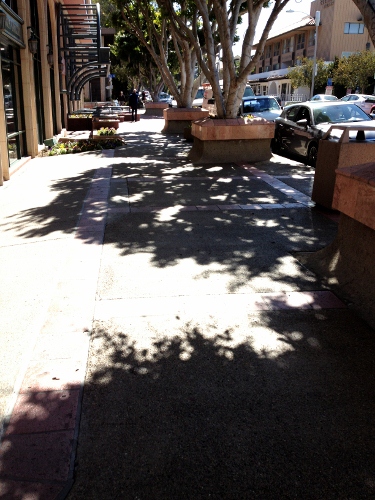 La Jolla is a picturesque town with breathtaking scenic areas along its coastline.  The town itself is absolutely delightful to visit and walk around.  There are shops to visit where you can find something for everyone.  Beyond that, there are art galleries that will delight your senses, performance venues that will entertain you, and a variety of restaurants that will satisfy your taste buds.  Art and culture choices are abundant with places to visit like the Athenaeum Music and Arts Library, the La Jolla Symphony, and even the town's own theater, The La Jolla Playhouse, plus so much more. There are concerts, plays, and art exhibits galore to view for those who may be interested.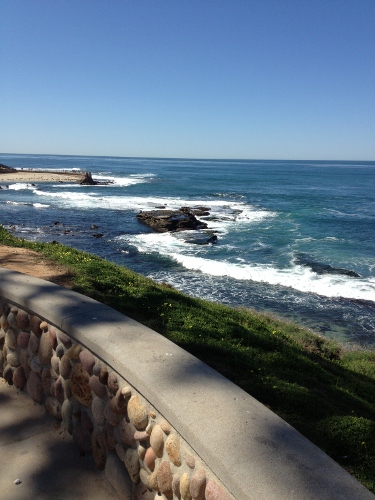 But what I found to be the most interesting and relaxing at the same time was that perfect jewel, the La Jolla coastline.  We walked from the town to Scripps Park that overlooks the ocean, a park where in the summer they have concerts.  We followed the walkway there to Shell Beach,where we saw one of the most fantastic views I have ever seen.  We continued to walk along the walkway, while enjoying the ocean views until we reached the Seal Rock where you can observe up close the ocean and the seals who reside there.  It was a wonderful way to enjoy our afternoon and far surpassed my expectations.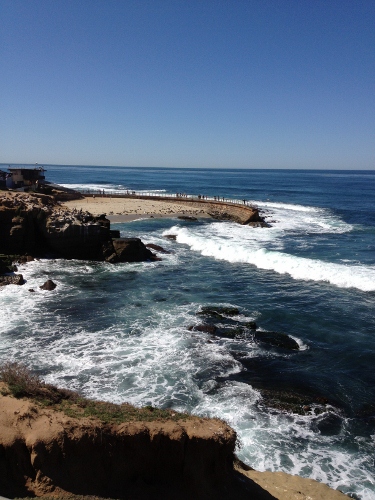 Beyond visiting the town itself, it was interesting to learn something about its residents, present and former.  Theodor "Dr. Seuss" Geisel was a celebrity resident of La Jolla, and you will often see evidence of this in 3-dimensional art displays in front of the town's various art galleries and elsewhere throughout the town.  Some others who have lived or still live here are the novelist Ann Rice; actor Gregory Peck; novelist Raymond Chandler; painter Richard Allen Morris and so many others that I could fill the page with names.
I can't recommend enough what a wonderful place La Jolla, California, was to visit.  Although we were staying in Carlsbad, California, another beautiful oceanfront town, we found that with a car, a map, and a GPS, there was so much to see and do in all of San Diego County. The distance between the city of San Diego and Carlsbad was less than an hour's drive depending on traffic, and everything in between was easily accessible as well, either by using Interstate Highway 5 or Highway 1 along the coast.  They even have an Amtrak train called the Coaster that runs from Oceanside to San Diego for those who don't want to drive.  Nonetheless, to get to the town of La Jolla and truly enjoy the sights, you need to drive there.  If you should decide to visit this great area of southern California, be sure to make the time to visit La Jolla.  I'm certain that the memory of the ocean views will warm your heart for years to come, and you will dream of going back again sometime soon as we now do.  Put it on your wish list, and then one day make it happen.  You won't regret it!  Enjoy!