By Jodee Weiland
This spring has been as cold and damp as many fall days, so I decided to make soup.  After looking to see what I had readily on hand, I found I had just the right ingredients to make my own kale and white bean soup.  It was so easy to do.  I was surprised I never attempted this before today.  I have made all kinds of soups, some with many of the ingredients used here, but I never thought to put them together to make this particular soup. Well, today I decided to try something new, and as it turns out, it was a great idea for a dinner to warm you up on a cold day that took very little effort and time.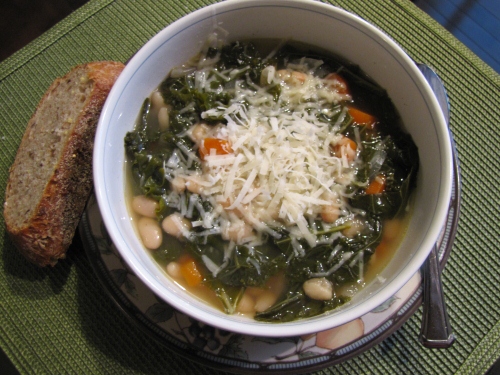 In order to make my soup, I gathered together all the ingredients I thought might go well together to create a warm hearty soup that would take the chill off on this damp rainy day.  Once that was done, I started putting together my idea for a great hearty and healthy soup, and it turned out rather well, if I do say so myself. Here's what I put together, and how I did it to cook my soup.  Keep in mind I always make enough soup to feed a family.  I'm Italian, so there's no such a thing as too much food on the table.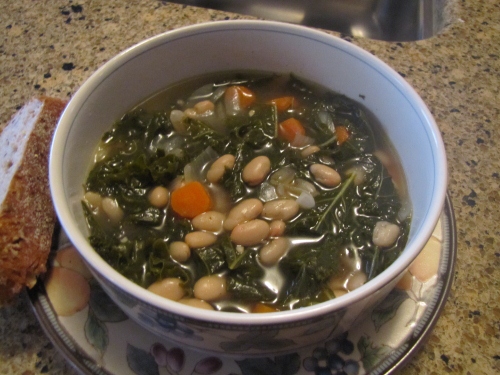 Kale and White Bean Soup
1/4 cup olive oil
1 medium onion chopped
1 teaspoon chopped garlic or more to taste
2 tablespoons snipped and chopped parsley or 1 tablespoon dried parsley
1/2 teaspoon ground thyme
1/4 teaspoon black pepper
8 to 10 cups chicken broth (I prefer fat free low sodium/ vegetable broth can be substituted)
1 large bunch of kale (wash, rinse, and tear leaves from stem)
3 medium carrots peeled and sliced
3 cans Great Northern, cannellini, or navy beans
Freshly grated Parmesan Reggiano cheese
A loaf of crusty fresh baked bread sliced, whichever type you prefer
In a covered stockpot, about five quart, sauté the onion, garlic, parsley, thyme, and black pepper for about five to ten minutes. Rinse and clean the kale, pulling the leaves off the center stem and tearing or cutting the leaves in to smaller pieces.  Add the chicken broth, kale, beans, and carrots to the stockpot and bring to a low boil, stirring as you add each ingredient. Then lower the heat to simmer, cover the pot, and simmer for twenty to thirty minutes or until the carrots are tender.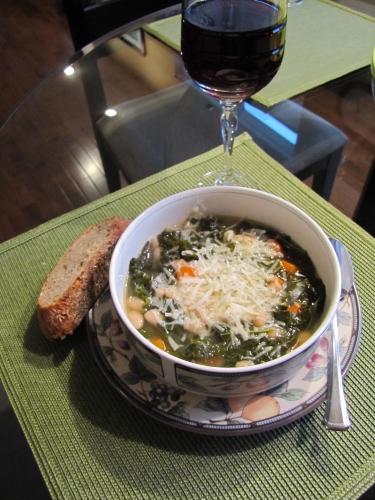 Serve this soup with freshly grated Parmesan Reggiano cheese and a crusty loaf of fresh baked bread, whichever type of bread you prefer.  This soup tastes especially good served with a nice Pinot Noir wine. We loved it! It is very tasty and just what you need on cool damp day to warm up. Try it!  I sincerely think you will be pleasantly surprised. Enjoy!