By Jodee Weiland
Healthy eating sometimes involves taking a close look at what you're putting into your recipes made at home. With store prepackaged seasoning packets for various dishes, you might think it's just seasonings, but look again. It was for this reason I made my own recipe, seasonings and all, for Jodee's Homemade Chili.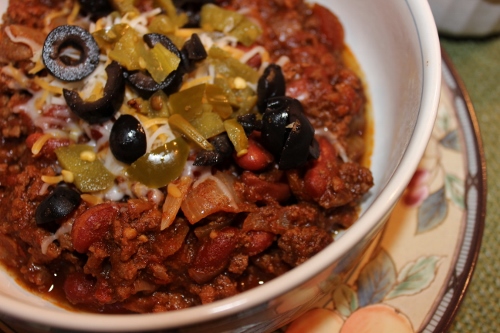 When my children were little and we went grocery shopping, they would always ask, like most children tend to do, "Can we have this?" Usually, it was something I would not even think of buying for them. My answer was always the same, "Look at the ingredients on the label.  If you can't read it or if you don't know what it is, it probably isn't real. So no, you cannot have it."  Eventually, they would start to ask this question once more, and then stop to say, "Never mind, it isn't real."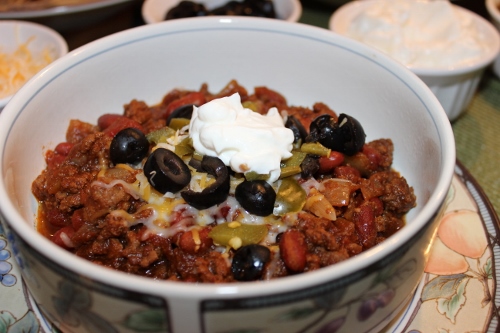 Right about now, you may be asking, "Why?" That's easy enough to explain.  My own mother, a wonderful woman, was health conscience and chose natural foods over everything else before it was even popular. She exercised to keep in shape and lived to be ninety.  Having been raised in this manner, I chose to do the same with my own children.  Consequently, when I wanted to make homemade chili for my family, I came up with my own recipe through trial and error, and chose not to use prepackaged seasonings or less lean meats.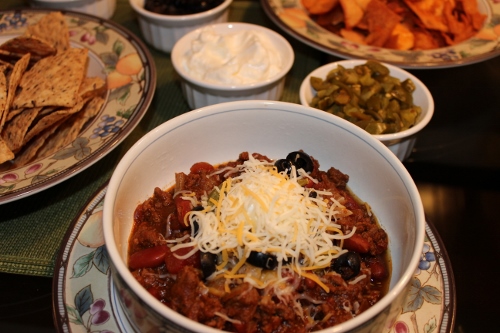 My recipe for homemade chili is healthy and tasty.  My family loves this recipe, and my own children have asked for it, so they can make it in their own homes.  There are some optional ingredients that have been added in through the years since I first put together my final recipe.  Those options are for those who like a spicy chili as I do.  When the children were young, spicy was not an option for me, but later it became a choice for some of us. It really is a good recipe that everyone can enjoy with even a few add on ingredients after cooking, if desired.
1 to 2 pounds of lean ground round or ground sirloin
1 to 2 (16 oz.) cans of kidney beans drained and rinsed (all natural ingredients brands)
1 large onion chopped
2 cloves chopped garlic
1 green bell pepper (optional)
2 to 3 tablespoons chili powder
1 tablespoon sugar
1 to 2 (16 oz.) can tomato puree or crushed tomatoes (no salt added brands)
1/2 teaspoon paprika
1/2 teaspoon cumin
1/2 teaspoon oregano
1/4 teaspoon cayenne (optional)
Water as needed to thin out chili sauce as it cooks (usually about 1/4 cup more or less)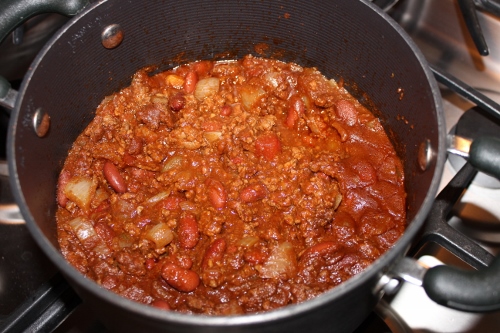 Note: The recipe calls for 1 to 2 cans of kidney beans and 1 to 2 pounds of lean ground round or ground sirloin. These amounts are flexible depending on whether you like more beef in your chili or more beans in your chili. You decide what's right for you.
Brown meat slightly over medium heat with onion and garlic added (green bell pepper if used).  Add to this the chili powder, paprika, cumin, and oregano (cayenne if used) and stir in to meat.  After browning the meat, onion, garlic, and additional seasonings, add the tomato puree and sugar, stirring into the meat and seasonings.  At this point, add water if needed to thin out the sauce a little.  Once you have the desired thickness, add the drained and rinsed kidney beans, and stir into the chili.  You can use light or dark kidney beans, whichever you prefer. Cover the pan and lower your heat to simmer for about twenty minutes or until meat is cooked.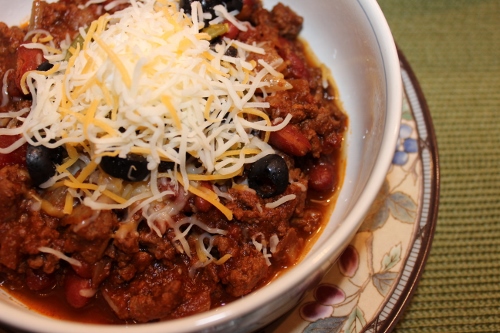 Serve the chili with all your favorites.  We usually serve our chili with tortilla chips, shredded or grated cheese (any type you prefer), and sliced or diced jalapenos. To this we sometimes add a sour cream or sliced olives (green or black). However you choose to serve this chili, even if that is just the chili by itself, you will be pleasantly surprised at how easy it is to put together and how delicious it tastes. I hope you try this recipe and enjoy it as much as my family has through the years.  Enjoy!