By Jodee Weiland
One thing I have always enjoyed was a good pulled pork sandwich with a delicious tasting barbecue sauce. A good barbecue sauce really is key to the success of the sandwich in this case.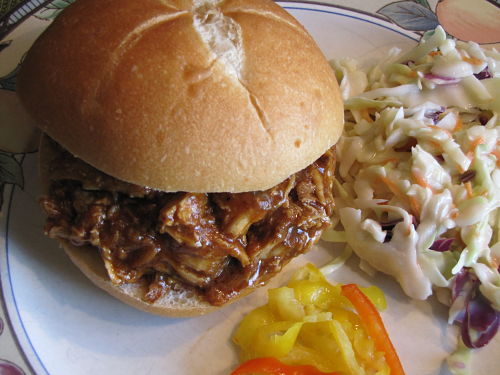 When I was a kid growing up in Chicago, my mom used to make the absolute best barbecue ribs in the world, or at least that's how I remember it. As an adult, I have made mom's ribs with her homemade barbecue sauce on several different occasions and always with rave reviews from those participating in the meal. Traditionally, the way with our family is to make slight adjustments to our recipes throughout the years according to taste, and I have carried on the tradition of always trying to make it a little better each time I cook it. Nonetheless, I am happy to say, it is still mom's recipe for the most part, and I still believe her sauce to be the best ever!
As a fan of pulled pork sandwiches, I have tried a wide variety of them when travelling down south and here in Chicago, usually finding some great ones and some additional ideas for this sandwich along the way. Now I have decided to take my memories of great barbecue ribs as a child and apply mom's homemade barbecue sauce, with my slight adaptations over the years, to pulled pork sandwiches! Along with that, I want to add cole slaw, banana pepper rings, and bread and butter pickles for add ons. Here's the recipe I have come up with from all the different recipes I have tasted or seen over the years, including mom's homemade barbecue sauce.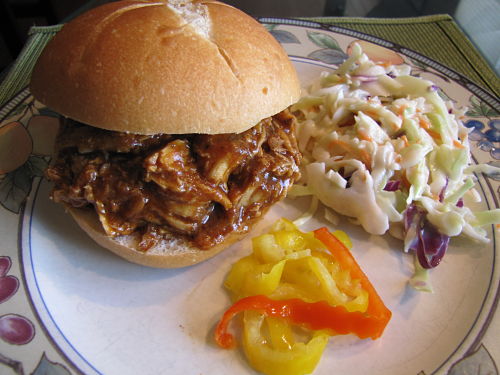 Pulled Pork Sandwiches with Homemade Barbecue Sauce from Mom
1 boneless pork loin roast, about 3 lbs. (I prefer the leanest possible cut of pork)
Salt and ground black pepper (to lightly season pork roast prior to browning)
2 tablespoons olive oil
1 medium onion, chopped
2 cloves garlic, chopped or minced
1/2 cup of fat free chicken broth (vegetable broth can also be used)
Lightly season the pork with the salt and black pepper. Heat olive oil in frying pan over medium heat and brown the pork roast on all sides, turning frequently, for about 10 minutes. Once browned, remove the roast from the pan and set aside.
Add the chopped onion and minced garlic to pan drippings and saute for 3 to 5 minutes over medium heat until softened. Then add chicken broth.
While onions and garlic soften, blend together and rub the browned pork roast with the following rub on all sides.
1 1/2 tablespoons paprika
1/2 tablespoon garlic powder
1/2 tablespoon onion powder
1/2 teaspoon sea salt (or to taste)
1/2 teaspoon black pepper (or to taste)
1/2 tablespoon thyme
1/2 tablespoon oregano
1/4 teaspoon red cayenne (or to taste)
1 tablespoon brown sugar
When done applying the rub on all sides, put the roast in the slow cooker after spraying the inside with olive oil spray (this helps with clean up later). Then add broth mixture around sides of rubbed roast (reserve leftover broth for additional liquid, if needed). Cover and cook 6 to 8 hours on medium heat setting or 8 to 10 hours on low heat setting.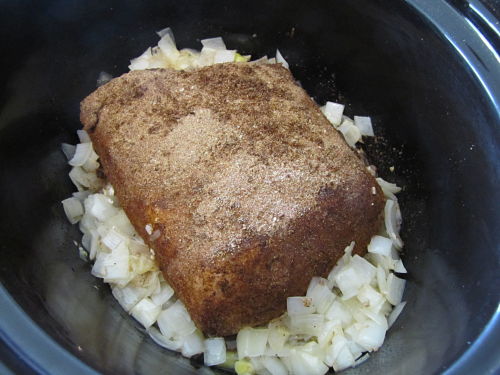 While pork is cooking, prepare the homemade barbecue sauce below. Combine all the ingredients below for the barbecue sauce in a bowl and blend well using a whisk to dissolve the brown sugar. Then refrigerate sauce until needed later.
Homemade Barbecue Sauce
1/2 cup apple cider vinegar
1 cup ketchup
3 tablespoons dark brown sugar (or more to taste)
2 tablespoons yellow mustard
1 tablespoon molasses
Salt to taste (optional)
1/4 teaspoon red cayenne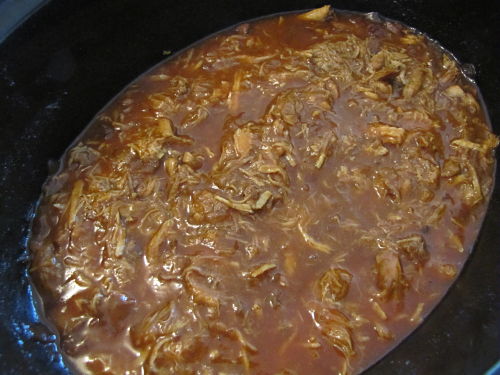 Once the pork roast is done cooking, transfer the roast only to a platter and pull into shreds with a fork, removing any fat. When finished, return the shredded pork to the slow cooker and add the recipe for homemade barbecue sauce prepared earlier. Be sure to leave in the mixture in which the pork was cooked. This is additional moisture and flavoring for the pulled pork.  Blend barbecue sauce into shredded pork, set the temperature to high on the cooker and cook a little longer, leaving it uncovered and stirring it frequently until the sauce thickens. This may take about 20 to 30 minutes. Done right, the results will be satisfying enough to make all the preparation for this dish well worth your effort.  Enjoy!