By Jodee Weiland
My father was a lovable character, who was one awesome cook! He could take a head of cabbage and make it into a gourmet side dish easier than anyone I've ever known.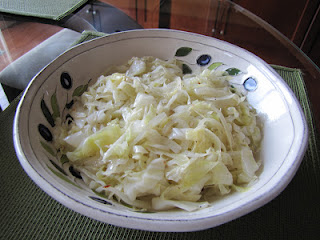 All the grandchildren in our family called my father Poppy. One thing that Poppy loved to do was cook. The recipes he created were absolutely delicious! There was only one problem. He never measured anything or wrote down directions for his recipes. Dad was a great cook, but he was terrible at giving us recipes we could follow and repeat for ourselves. So when he started getting on in years, I decided to start measuring as he cooked and then writing down the recipes that were most important to all of us. I will never regret this decision and to this day, I still hand down some of his all time favorites to my family members. Inevitably, we will share stories and memories that went along with each of the recipes.
Dad and I both loved cooking. So eventually, he began comparing our recipes for different dishes and even setting up a little competition on whose version of a particular recipe was better. We would both continually try to make a recipe better and see who could find the best way to make it better first. He loved this. I would walk into his kitchen, and he would say, "Sit down Jo. I want you to taste something!" Mind you, this was always done with the same mischievous sparkle in his smiling eyes, especially, if he thought he had outdone me. Many times he did!
This recipe is his Spicy Lemon Cabbage, which is amazingly easy to make if you buy the prepared shredded cabbage. I like to shred my own, so it is a little more involved when I do it, but believe me, either way it is worth it!
Spicy Lemon Cabbage
1/2 large cabbage head (either pre-shredded or shred yourself)
1 medium to large onion
2 cloves garlic chopped
2 to 3 tablespoons olive oil
Juice from 1 to 2 small lemons (use more or less according to your taste)
1/4 teaspoon of black pepper (or to taste)
1/3 teaspoon of crushed red pepper (or to taste)
The amount of lemon juice and peppers can be adjusted according to your personal preference. The amounts I have listed are what I use and prefer.
First, saute the onion and garlic in olive oil. Once they are cooked, add the shredded cabbage, gradually blending the onions and garlic into the cabbage as it begins to cook over a medium heat. After mixing this together, add the juice of the lemons, the black pepper, and the crushed red pepper, blending each in to the cabbage. Cover and cook until the cabbage is done, but not soggy and overdone. The whole process does not take all that long.
This dish is very tasty and goes well with a wide variety of main courses. I hope you enjoy it as much as my family has throughout the years. I still remember my father's smile and excitement when he first made it for me! I miss him and think of him every time I make it, as do my children. Poppy's cooking was always a treat for all of us. Enjoy!